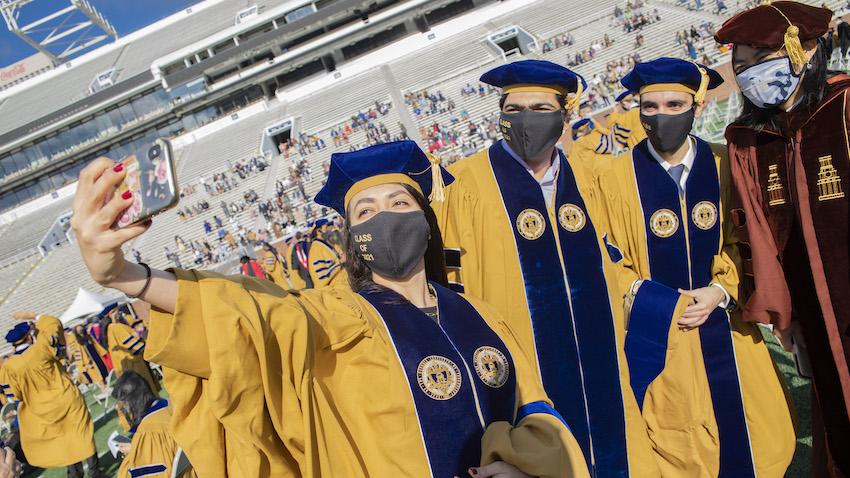 Graduating Class Reflects Interdisciplinary Nature of Computational Science and Engineering
It's Fall 2021 Commencement Week at Georgia Tech and the School of Computational Science and Engineering (CSE) is set to welcome nearly 50 new alumni during ceremonies at Bobby Dodd Stadium on Friday.
Seven School of CSE students are set to receive their doctoral degrees during the Ph.D. Commencement Ceremony, which begins at 9 a.m. They are:
"These new Ph.D. graduates along with our new MS graduates have diverse expertise and interests, and their academic and professional pursuits from here will certainly cover a broad spectrum," said School of CSE Chair and Regents' Professor Haesun Park.
"What they share is a passion, honed at Georgia Tech, for developing data and computation based approaches to find answers to questions that truly impact people's lives." 
Along with seven new Ph.D. graduates, 42 students are receiving their Master of Science in Computational Science and Engineering degrees at the Master's Commencement Ceremony set for 1 p.m. on Friday at Bobby Dodd Stadium.   
Reflecting the interdisciplinary nature of CSE, these students focused their work on a variety of domains including aerospace engineering, biology, industrial design, mathematics, and other fields.
The new School of CSE MS alumni for Fall 2021 Commencement are:
Kiarash Ahmadi (MS CSE-AE 21)
Yining Chen (MS CSE-AE 21)
Yiqiong Xiao (MS CSE-BIO 21)
Rafegh Aghamohammadi (MS CSE-CEE 21)
Hongyu Chen (MS CSE-CEE 21)
Jiawei Chen (MS CSE-CEE 21)
Maiqi Ding (MS CSE-CEE 21)
Mingyi Liu (MS CSE-CEE 21)
Yimin Lu (MS CSE-CEE 21)
Pin Lyu (MS CSE-CEE 21)
Shihao Mi (MS CSE-CEE 21)
Pragadeesh Muthiah (MS CSE-CEE 21)
Qinyu Wang (MS CSE-CEE 21)
Tian Xia (MS CSE-CEE 21)
Junzhu Xiang (MS CSE-CEE 21)
Yumeng Zhao (MS CSE-CEE 21)
Zefang Liu (MS CSE-CS 21)
Ziyan Wu (MS CSE-CS 21)
Jipeng Chen (MS CSE 21)
Fatima Ezahra Chrit (MS CSE-CSE 21)
Saurabh Parimal Doodhwala (MS CSE-CSE 21)
Ting Liao (MS CSE-CSE 21)
Sooyoun Oh (MS CSE-CSE 21)
Kai Qu (MS CSE-CSE 21)
Haotian Yin (MS CSE-CSE 21)
Qinhao Dong (MS CSE-ISYE 21)
Kaiwen Luo (MS CSE-ISYE 21)
Zhekun Qi (MS CSE-ISYE 21)
Huizi Shao (MS CSE-ISYE 21)
Zexing Song (MS CSE-ISYE 21)
Yingjia Tao (MS CSE-ISYE 21)
Weize Yu (MS CSE-ISYE 21)
Yu Yu (MS CSE-ISYE 21)
Qiling Zhang (MS CSE-ISYE 21)
Xiang Zhong (MS CSE-ISYE 21)
Fan Gu (MS CSE-MATH 21)
Jiateng Wang (MS CSE-MATH 21)
Meng Xu (MSCSE-MATH 21)
Sihang Xu (MS CSE-MATH 21)
Ziwei Zhou (MS CSE-MATH 21)
Wanting Zhu (MS CSE-MATH 21)