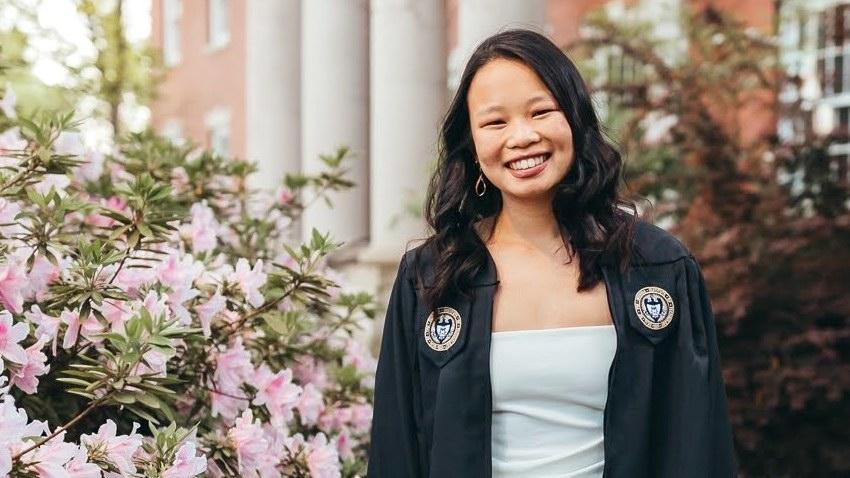 Graduating CS Major Flourishes After 'Casting a Wide Net'
People get into the field of computing for good to help others. But, as Jillian LaTour found out, the field can also be transformative for those who work in it.
LaTour is graduating from Georgia Tech with a Bachelor of Science in Computer Science degree and a Minor in French on Dec. 18. But she wasn't always sure she would make it this far.
During a tough first year when she struggled with homesickness and imposter syndrome, LaTour was ready to give up the Gold and White to move home and switch her major.
At the time, many of the people around her seemed to be achieving better results with the same amount of studying that she was doing. Adding to her frustration, it seemed as if some students were only interested their GPA.
With support from her family and friends, however, LaTour rallied to overcome these challenges. "I worked so hard to come to Georgia Tech and I didn't come here to just drop out. So I stayed, and the rest is history," said LaTour.
With the decision made to stick it out at Georgia Tech, LaTour, who graduated in 2018 from Cuthbertson High School in suburban Charlotte, N.C., began to "cast a wider net."
As part of this, she started as a student worker for the College's Office of Outreach, Enrollment, and Community (OEC). It was around this time, early in her second year, that she discovered Bits of Good at Georgia Tech, which connects students with local nonprofits to find computing-based solutions to real-world challenges.
Here, LaTour met people focused on different aspects of CS. "I was so excited. This was much more about, 'let's learn something, apply our skills, and help the community,'" she said.
Along with finding a new community through Bits of Good, LaTour learned about product management and the importance of client communications. She also learned a valuable lesson about herself.
"Some of the smartest people I've ever met are in this organization and they didn't always have the greatest GPA. We're always told this as students, but I guess I didn't really believe it, but this is when I truly realized that my GPA does not define who I am," LaTour said.
Since then, LaTour has flourished at Georgia Tech. She's been active in her sorority, spent a study-abroad semester in Paris, interned with IBM and Microsoft, and she still works with OEC coordinating events to support student organizations. She volunteered with HexLabs, tried-out for the crew team, and trained for a half marathon during the pandemic.
LaTour also continued working with Bits of Good and became a senior product manager this year. 
"My advice is to cast a wide net and figure out what you want to do. As soon as you find your community you really thrive here, but you must put yourself out there to do that," LaTour said.
With her degree in hand, LaTour is heading to Redmond, Washington in the spring to work as a software engineer with Microsoft.