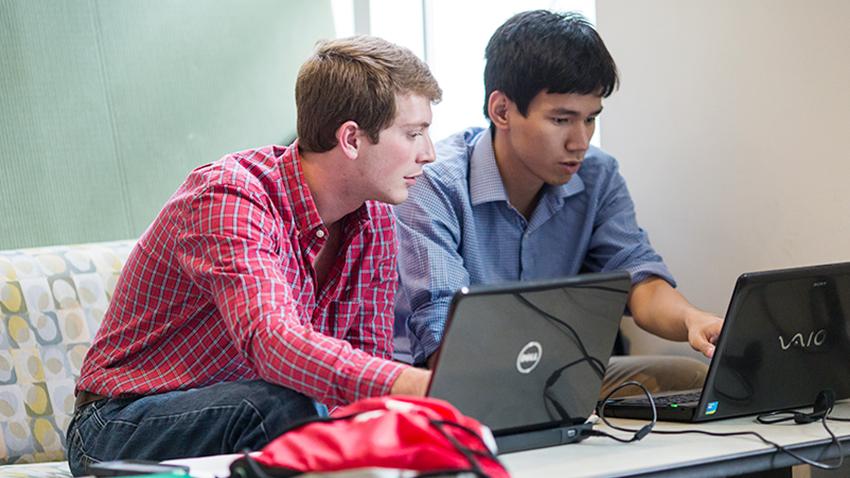 New Graduate Fellowship Encourages Research Collaborations
The School of Computer Science (SCS) has launched a new graduate fellowship. The Incubator Graduate Fellowship Program is designed to foster research collaborations between faculty who have not worked together before by dedicating funding to innovative pairings.
Twenty students submitted applications for the fellowship and four were selected by a committee of SCS faculty members including Professors Dana Randall and Ellen Zegura, Associate Professor Ada Gavrilovska, Assistant Professor Qirun Zhang, and Senior Research Scientist Greg Eisenhauer.
The fellowship recipients, along with their primary advisors and faculty collaborators, are:
Alind Khare (Assistant Professor Alexey Tumanov, with Associate Professor Tushar Krishna)
Xinya Liu (Professor Alessandro Orso, with Assistant Professor Joy Arulraj)
Marina Vemmou (Assistant Professor Alexandros Daglis, with Professor Moin Qureshi)
Renzhi Wu (Assistant Professor Xu Chu, with Assistant Professor Joy Arulraj)
"I think the SCS Incubator Fellowship is a great initiative to kickstart collaborations," said Daglis, who will be revisiting research on memory hierarchy design policies for modern architectures with intense networking activity. "It is exciting to embark on this joint SCS-backed research effort together, combining our expertise in memory systems and networked architectures."
Winners will have the 2021-22 academic year to seed their collaborative research and present their work at the end of the academic year.
"I am delighted by the outcome of this first round of the new SCS Incubator Graduate Fellowship Program," said SCS Chair Vivek Sarkar. "It's exciting to see so many junior faculty members involved, and I look forward to seeing the fruits of these new collaborations."