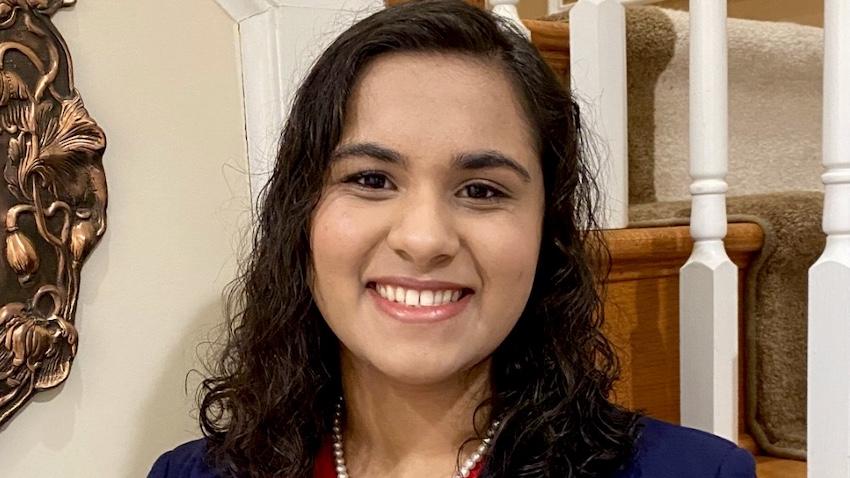 New Women-in-Technology Scholarship Recipient Had an Early Interest in AI
Megan Dass, a second-year computer science major, has been selected as a 2022 Adobe Research Women-in-Technology Scholar.
This highly competitive award is for undergraduates or master's students studying artificial intelligence/machine learning, data science, computer science, or mobile/web development.
"I'm excited to join an equally passionate community of women," Dass said. She has been doing research since the summer prior to her arrival at Tech with Duen Horng "Polo" Chau, associate professor of Computational Science and Engineering.
Dass became interested in artificial intelligence in middle school, after seeing a TED talk called Meet the SixthSense Interaction that was created by a lab at the Massachusetts Institute of Technology.
"I was astounded by the possibilities of using AI to make everyday things simple," she said.
In high school, she reached out to faculty at the Harvard Medical School and Stanford Medical & Machine Learning Group and was able to do impactful augmented reality and artificial intelligence research with them remotely. She reached out to Chau the summer before she matriculated.
"Megan's talent and potential to excel were obvious from the first time we met," Chau said. "She has been a clear standout, with academic excellence, exceptional drive and passion for research, and strong work ethic."
In her first week with Chau, Dass completed a project called Magic Crop, which takes photos and crops them to center on the subject's face by utilizing artificial intelligence and photography's rule of thirds. More recently, she was the first author on a paper submitted to IEEE VIS, the top visualization conference in the world. The paper was for an ongoing project called DARPA GARD, which centers on combatting adversarial attacks on AI models.
Dass aims to continue studying and pursuing high-impact research in the artificial intelligence and computer vision fields to prepare herself to achieve her eventual goal of using artificial intelligence for the betterment of society.
This is the second year in a row that a CS major from Georgia Tech has been named as an Adobe Research Women-in-Technology Scholar. Prerna Ravi earned the scholarship in 2021.