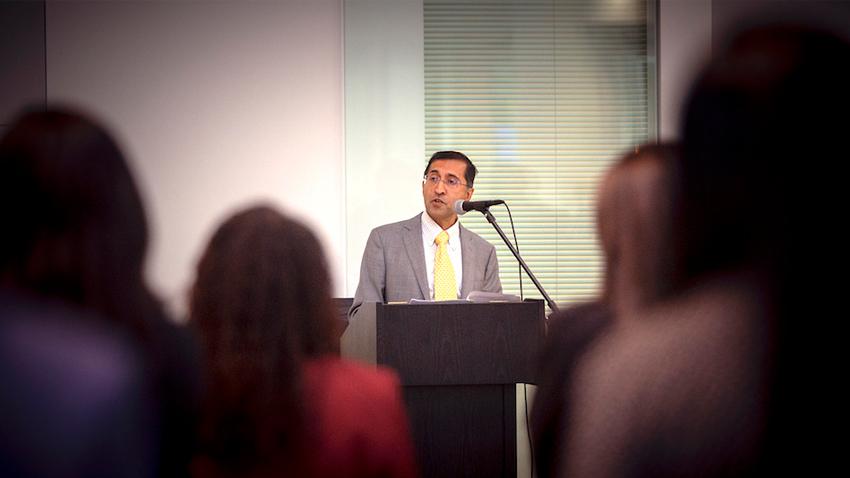 Newly Endowed Chair Underscores Value of Computational Journalism
The creator of Google News has endowed a new faculty chair position in computational journalism at Georgia Tech's College of Computing.
Krishna Bharat – Georgia Tech alumnus (MS CS 1993, Ph.D. CS 1996) and Distinguished Research Scientist at Google – announced his donation during a reception at the College, held Oct. 31.
"Given the relative maturity of the field and the promise ahead, I felt this was the right time to create an endowed chair in computational journalism. This is a way for me to give back to Georgia Tech, and also to help the College of Computing expand its research portfolio, and show leadership in this important area," said Bharat.
President Ángel Cabrera, Dean of Computing Charles Isbell, and members of the College's Advisory Board, along with dozens of faculty, staff, and students, attended the reception held in the Klaus Advanced Computing Building.
The Krishna A. Bharat Chair in Computational Journalism recognizes the College's contributions to the field, which Georgia Tech is credited with creating in 2006. A nationwide search to fill the newly endowed chair position will begin in the coming months.
"Computing is now such a part of so many other fields that we cannot innovate, we cannot research, and we cannot teach in isolation. Journalism is central to informing and engaging citizens in a free society. It is a field that has both changed and been changed by computing," said Isbell, who also holds the John P. Imlay Jr. Chair in Computing. 
"The College is deeply thankful to Krishna Bharat and his wife, Kavita Thirumalai, for supporting our efforts in computational journalism, and enabling our faculty and students to further impact this most important area."
---
Q&A with Google Distinguished Research Scientist Krishna Bharat
Bharat sat down this week for a few questions about computational journalism and his own journey from Georgia Tech to the top of the tech world.
GT Computing: What was your motivation for creating this endowed chair? Why do you want to associate your name with this research?
KB: When I was a Ph.D. student at the College of Computing in the early 90s, I built a piece of software to aggregate online news and construct a personalized newspaper. That project broke new ground technically, and it taught me a lot about applying computing to the processing and analysis of news. It also launched me on a successful career path that led to Google and Google News.
In the 25 years since then, that intersection between computing and news that I happened to explore has grown tremendously. Online news has exploded, and computing is used in every part of the news lifecycle and ecosystem. This field is now well established in practice, in a variety of institutions in the news space, but in academia somewhat less so.
Given the relative maturity of the field and the promise ahead, I felt this was the right time to create an endowed chair in computational journalism. This is a way for me to give back to Georgia Tech, and also to help the College expand its research portfolio and show leadership in this important area.
GT Computing: Why do you think computational journalism is a field worth supporting at this point in time? Where do you think the field is going?
KB: We are now poised at the beginning of a new AI revolution where machines can understand content and synthesize derivatives in powerful and useful ways. This is going to open up opportunities for research and innovation that will transform journalism going forward. Machine intelligence will help journalists scale their efforts to source stories and build compelling new narrative experiences based on data and in-depth reporting. Technology in newsrooms, platforms, and consumer apps will evolve how news content is packaged, distributed, monetized, personalized, and optimized for consumer satisfaction – and publisher revenue.
While technology holds a lot of promise, it can also create challenges for publishers and society -- ranging from information overload and filter bubbles to disinformation and manipulation by outside actors. Publishers face business model challenges in a crowded and continuously evolving ecosystem. There is both a need to study these phenomena and craft solutions that will in part, depend on computing.
Also, using computing as a social science tool, we can address and answer fundamental questions about the quality, diversity, and utility of the news that consumers get. We can assess its impact on our society and democracy by analyzing data at scale.
While a lot of the innovation is happening in technology companies and publishing houses, academia still has a big role to play. Many of the technologies that matter are pioneered in universities. Academia can focus broadly on the public good and take a long-term view of technology. They can innovate both on the practice and analysis of news, and bring expertise to bear from many disciplines.
GT Computing: How did you get interested in computational journalism? Did working on Google News spark your interest?
KB: I have always had a deep interest in the news. When I grew up in India we used to get multiple newspapers at home as well as local and foreign magazines. We would also listen to the news on the radio and television. The divergence in reporting between different channels and their complementary nature has always been fascinating to me.
I got a chance to apply computing to news when I was doing my Ph.D. at Georgia Tech. After this though, I joined Google to work on web search. However, when the September 11th attacks happened I became super interested in computing with the news again. My explorations led to Google News, a platform to crawl index and aggregate news to support search and automated headlines on Google. Our mission was to help users understand the news better by presenting them with a diverse set of articles on a given news story. That product has since grown internationally and provides consumer access to relevant news and traffic to publishers worldwide.
This certainly advanced my interest in computational journalism. I also co-teach a course on this topic at Stanford, where we have students work in interdisciplinary groups to apply computing to journalism challenges.
GT Computing: You mentioned your work at Stanford University and you also have a connection to Columbia University's computational journalism program. What do you think Georgia Tech brings to the table that other schools might be missing?
KB: I have a personal connection to Georgia Tech. I got my Ph.D. here and was inspired to work on projects that transformed my career.
Beyond this, however, one thing I found unique about Georgia Tech is its emphasis on interdisciplinary research and the collaborations it builds with an eye to the future. The GVU Center, which I was a part of, is a great example of this. (Professor Emeritus) Jim Foley brought together researchers in HCI, Animation, Robotics, Visualization, VR, Psychology, Industrial Engineering, Ubiquitous Computing, etc. to work together on projects that were trying to look ahead and invent how computing could integrate into our lives. We were one of the earliest groups to work on the WWW, starting in the first year of its existence. The center was extremely successful and the Institute has replicated this model many times since.
GT Computing: What advice would you give to students who are interested in learning and working at the intersection of computing and journalism?
KB: One thing I have found is that since news touches everyone, every computer scientist has some intuition on how to apply computing to the news. What they often need is exposure to real data and use cases to test out their ideas and develop new ones.
Fortunately, there are many avenues for that -- especially in an institute that encourages collaboration with practitioners. Working in interdisciplinary teams is important, teaming up with journalists or people with experience with the news. Also, I find that almost every subfield within computing seems to have relevance to computational journalism and the ability to contribute valuable technologies.
Deep learning, in particular, has direct applicability. As the AI technology used to understand text, audio, and video improves, you can think of ways to apply it to tasks of interest in the news lifecycle. There is a lot of low hanging fruit there. The Computation+Journalism symposium features interesting research that can serve as inspiration.
GT Computing: Finally, you did both an MS and a Ph.D. at GT Computing. Can you give an example of how your experience at Tech helped you build a successful career? What have you learned that you think could benefit current students?
KB: One of the things I think proved really useful during my Ph.D. was the opportunity to meet with practitioners both in their environment and in ours. We would travel to Silicon Valley to meet with companies like Sun Microsystems and SGI and understand the problems they cared about. We also had a constant stream of visitors to our lab from industry, government and other universities to see demos of our prototypes.
This constant feedback loop helped ground our research in reality and the needs of the real world. We had to articulate our vision and clarify how we were planning to make a difference to the state of the art.
When we were being naive in our approach or had blind spots, they would tell us and we would learn from it and course correct. I think that kind of feedback loop is worth seeking out. It helps you orient your research correctly and prepares you for a successful career when you graduate.