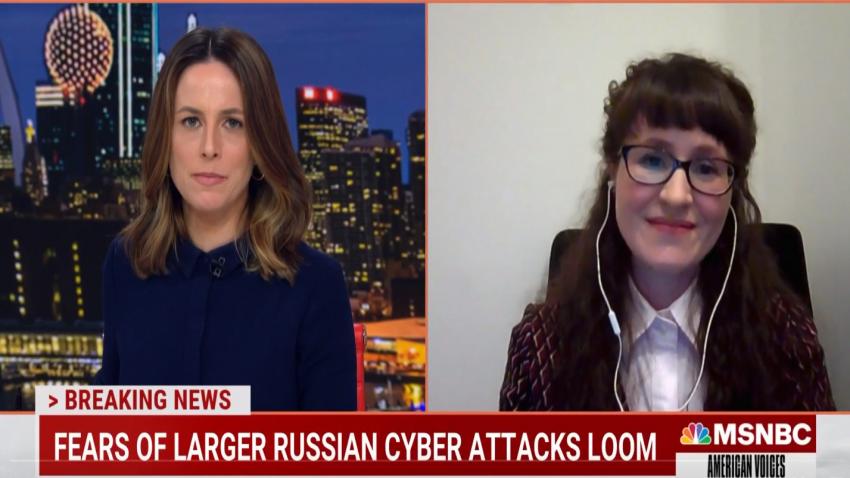 Russia's Failure in Cyberspace
Since 2014 Georgia Tech Assistant Professor Nadiya Kostyuk has studied the pattern of cyberattacks coming from within the borders of the Russian Federation against the country of Ukraine.  
While fear of cyberattacks have grown during the current physical conflict in Ukraine, Kostyuk argues Russia has had to use a physical military presence to achieve what it could not by using cyberattacks. 
During an appearance on MSNBC's weekend news show American Voices with Alicia Menendez, Kostyuk explained despite using Ukraine as a "cyber-range" for eight years, Russia has not yet showed it is capable of an all-out cyberwar. 
"If you think about how much time and effort it takes to develop the cyber operations to hack a critical infrastructure such as an electrical power grid, it is much easier to use the military already on the ground to capture or destroy it," Kostyuk said during the Saturday night broadcast. 
"The fact Russia had to deploy troops demonstrate the failure of cyber warfare on its own to achieve Russia's strategic objectives." 
Kostyuk pointed out that Friday's attack and capture of Zaporizhzhia, the largest nuclear power plant in Europe, could be an example of Russia needing to physically seize infrastructure they cannot capture and maintain through virtual attacks. Since January, Ukraine has seen multiple cyber-attacks in the public and private sector.  
The Associated Press reported on Feb. 15, a series of cyber-attacks took down at least 10 Ukrainian websites including the country's Defense Ministry, Foreign Ministry, and two of its largest banks. Bad actors used what is known as a distributed denial of service (DDoS) attack, which uses bots to flood targeted websites with fake traffic. The sites were operational within a few hours following both the Feb. 15 attack and a second DDoS attack one week later. 
"Cyberattacks have not been effective as a standalone operation against Ukraine," Kostyuk told Menendez. "Of course, Russia will continue trying to penetrate the networks, of course it will try to complement the military operations on the ground, but we should not see major cyberwarfare because they have not been effective in cyberspace for the past eight years." 
While Russia has not been as active in cyberspace regarding destructive cyber-attacks, it has invested significant resources and expertise to its disinformation operations, Kostyuk added. The spreading of disinformation plays a critical and crucial role in Russia's strategic tool kit.  
Nadiya Kostyuk is an assistant professor at the Georgia Tech School of Cybersecurity and Privacy with a joint appointment at the School of Public Policy. In 2017 she and Yuri Zhukov of the University of Michigan co-authored Invisible Digital Front: Can Cyber Attacks Shape Battlefield Events? The paper was published by the Journal of Conflict Resolution and offered a quantitative analysis of the relationship between cyber activities and physical violence during war. Using data from cyber-conflicts in Ukraine and Syria, Kostyuk, and Zhukov concluded cyber-attacks were ineffective tools of war.