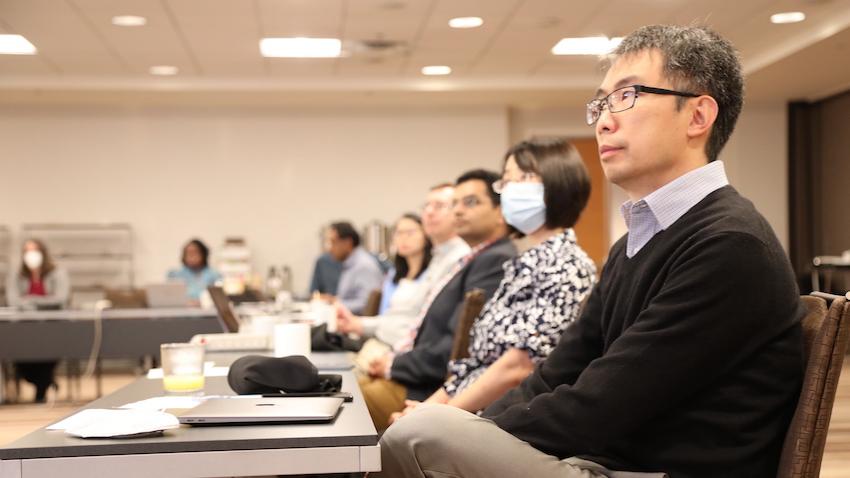 School's Growing Faculty Leads to More Students, More Research Funding, More Facilities
Faculty of the School of Computational Science and Engineering (CSE) held a retreat Aug. 11 in downtown Atlanta. There, they reflected upon the previous year while reaffirming the School's vision for the new school year as a world-class, interdisciplinary academic unit.
"The School of CSE is a pioneer in the academic field of computational science and engineering," said School of CSE Regents' Professor and Chair Haesun Park. "There are many universities with a computational science and engineering presence, mostly in the form of a center or graduate program, but we are unique in that we have a school. Our School is the academic home for the field of CSE at Georgia Tech."
Park opened the retreat with a presentation where she reiterated the School of CSE's mission to:
Solve real-world problems and improve quality of life through advances in computational foundational research, modeling, methods, and techniques.

Foster collaboration and interaction to solve challenging problems in novel ways through interdisciplinary cooperation and broad partnerships.

Create leaders in academia, industry, research laboratories, and government who innovate, define, and advance computational science and engineering agendas.
To help fulfill its mission, one primary goal the School seeks to accomplish this year is continue growing its faculty and student populations with emphasis on diversification.
The School of CSE's full-time faculty cohort grew from 13 professors in 2021 to 17 professors in 2022. Four joint professors continue to advise students, teach classes, and conduct research with the School.  
The expansion in faculty yielded an increase in funded research projects. With a funding total exceeding $15 million, the School increased total projects from 88 to 97 between 2021 and 2022.
Along with increased research funding, the addition of more faculty allowed the School to enroll more students under its six doctorate and seven master's degree programs. In December 2021 alone, nearly 50 CSE students earned their degrees and graduated, the one of the largest classes in School history.
The School of CSE students and recent alumni received numerous awards and accolades last year, setting high expectations for 2022-2023. CSE Ph.D. students Pranav Shetty and Zijie (Jay) Wang attained J.P. Morgan Chase AI research fellowships and CSE Ph.D. student Gaurav Verma was a finalist for an Adobe Ph.D. fellowship. Recent School of CSE alumni Fred Hohman and Srinivas Eswar received the SIGCHI Outstanding Dissertation Award and the J.H. Wilkinson Postdoctoral Fellowship at Argonne National Laboratory respectively.
Located in the Coda building at Tech Square on the south wing of the 13th floor, the School's newest challenge is providing working areas to keep pace with the rapid student enrollment rate. Park announced at the retreat that the School recently acquired the 13th floor east wing, providing additional offices for faculty and staff as well as more student workspaces.
"CSE is central to the vision and the plans for the College," said Charles Isbell, dean and John P. Imlay, Jr. chair of the College of Computing. "We have what I would say is the first successful intercollege school at Georgia Tech, I think we will see more and more people perceive CSE in that way and that it will be increasingly central for the future of sciences, engineering, and computing."