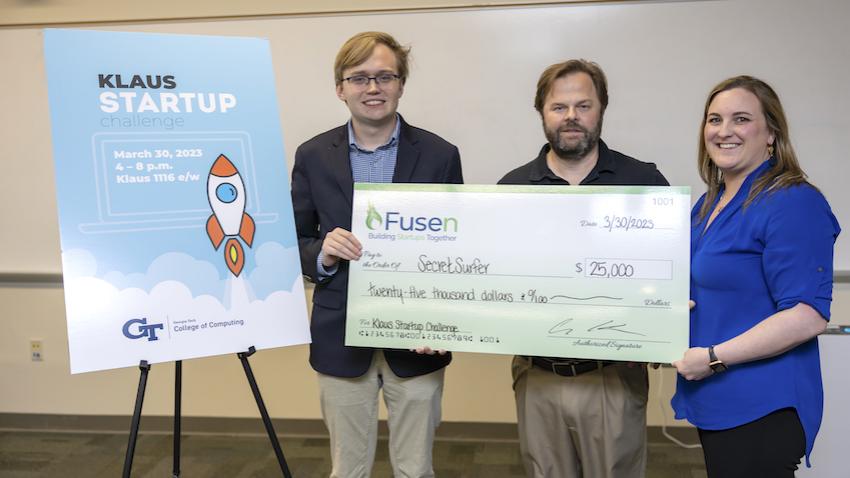 Startup Challenge Prepares Students for Future Entrepreneurial Opportunities
College of Computing students honed their business plans and competed for prize money and mentorship in this year's annual Klaus Startup Challenge, held on March 30.
The challenge is an entry-level pitch competition designed to prepare beginning entrepreneurs for future competitions and funding opportunities. It is named in honor of Christopher W. Klaus, a College Advisory Board member and long-time supporter of the College.
The investments in the startups are equity-based and provided by Fusen, a national campus startup accelerator. There were overall awards, as well as awards in specific fields. The amounts listed below are the initial award that each team received. Teams are also eligible for up to $500,000 each in funding for meeting set milestones for subsequent awards as their company progresses.
The winners were:
Best Cybersecurity Team ($25K):

SecretSurfer, team members

Josh Weintraub and Tillson Galloway

Best AI Team ($25K):

D1.AI, team members 

Abhinav Gullapalli, Aniket Pant, and Ritvik Verma

1st Place Overall ($25K):

XR Navigation, by Brandon Biggs

2nd Place Overall ($20K):

TherapySense, team members 

Richard Rex Arockiasamy, Adithya Mohanavel, Gayathri Rajakumnar, Sanjana Vijay, Ganesh, and Jagriti Sikka

3rd Place Overall ($15K):

Tura, team members Shreya

Santhanagopalan, Anuhya Kasam, Eshani Chauk, and Anvitha Veeragandham
The College of Computing and Georgia Tech have a fully developed ecosystem to support student entrepreneurship. You can learn more on the College's Entrepreneurship webpage.