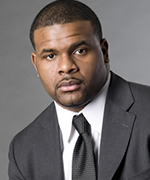 Adjunct Faculty Member
Research Areas: Human-Computer Interaction, Conversational Agents,
Biography
Dr. Kinnis Gosha (Go-Shay) is the Affiliate Faculty Member in the School of Interactive Computing as well as the Hortinius I. Chenault Endowed Division Chair for Experiential Learning & Interdisciplinary Studies at Morehouse College.  In his role as Division Chair, he is responsible for interdisciplinary degree options, certificates, dual enrollment, continuing education, and online education. At Morehouse, he also serves as Director of the Culturally Relevant Computer Lab. Gosha's research interests include conversational agents, social media data analytics, computer science education, broadening participation in computing, and culturally relevant computing.  More specifically, Gosha's passion lies in his research in virtual mentoring, where he has several peer-reviewed research publications. Gosha's Culturally Relevant Computing Lab is comprised of approximately 20 top undergraduate researchers each year from Morehouse College, Spelman College, and Clark Atlanta University. The lab investigates research problems centered on creating innovative computing technologies to solve cultural problems and issues. To date, Dr. Gosha has accrued over $8 million in sponsored research funding and over 50 peer-reviewed research publications.