Image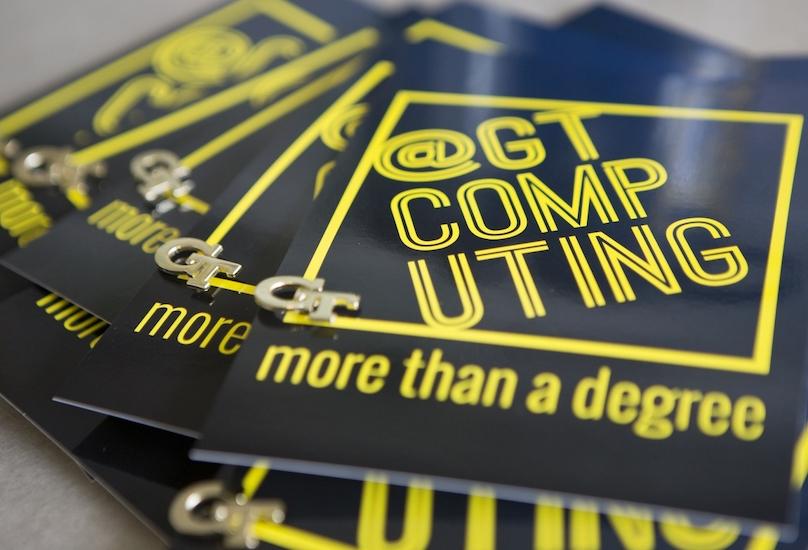 Image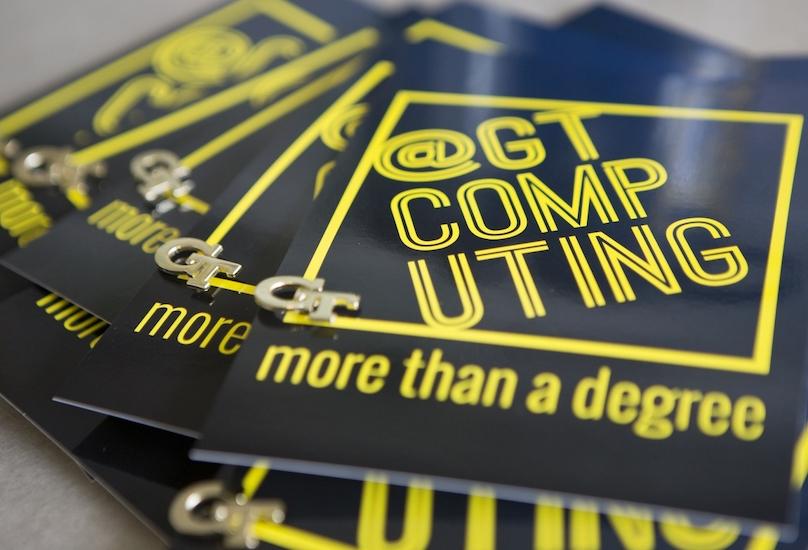 Image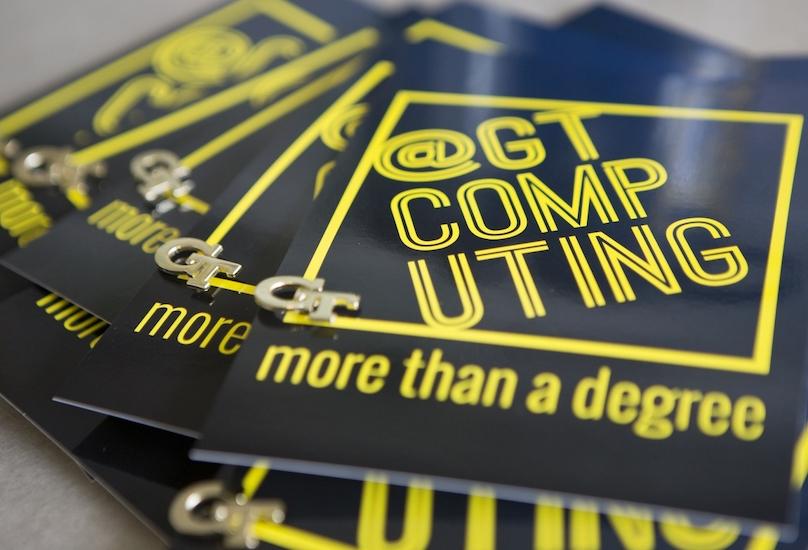 College of Computing Faculty Distinctions
Throughout the years, the faculty of Georgia Tech's College of Computing have been recognized for their exceptional achievements and contributions within their profession. From the College's own Annual Awards to the highest of national distinctions, explore the research and leadership success of our faculty.
College of Computing Faculty Distinctions
National Academy of Engineering Members
James Foley (2008)
Zvi Galil (2004)
Richard Lipton (1999)
American Academy of Arts & Sciences Fellows
Richard Lipton (2014)
Zvi Galil (2005)
National Associate of the National Academies
AAAS Fellows
David Sherrill (2014)
Srinivas Aluru (2010)
American Association for the Advancement of Science Fellows
Srinivas Aluru
Henrik Christensen
Richard DeMillo
James Foley
Peter Freeman
Nancy Nersessian
Calton Pu
David Sherrill
Vladimir Slamecka
American Chemical Society Fellows
ACM Fellows
Srinivas Aluru (2020)
Haesun Park (2020)
Richard Fujimoto (2017)
Wenke Lee (2018)
Beth Mynatt (2016)
Santosh Vempala (2016)
Mark Guzdial (2014)
Sham Navathe (2014)
Ellen Zegura (2013)
Gregory Abowd (2008)
Lance Fortnow (2007)
Krishna Palem (2005)
Vijay Vazirani (2005)
Mostafa Ammar (2003)
Richard DeMillo (2003)
Mary Jean Harrold (2003)
Ramesh Jain (2003)
Peter Freeman (2000)
James Foley (1999)
Richard Lipton (1997)
Zvi Galil (1995)
American Mathematical Society Fellow
Dana Randall (2012)
Prasad Tetali (2012)
American Physical Society Fellow
Eurographics Fellow
IEEE Fellows
Richard Fujimoto (2019)
Haesun Park (2017)
Calton Pu (2016)
Karsten Schwan (2016)
Ümit V. Çatalyürek (2015)
Aaron Bobick (2014)
Henrik Christensen (2014)
Ling Liu (2014)
David Sherrill (2014)
Kishore Ramachandran (2013)
Raghupathy Sivakumar (2013)
John Stasko (2013)
Sudhakar Yalamanchili (2013)
Irfan Essa (2012)
Mary Jean Harrold (2011)
Ellen Zegura (2011)
Srinivas Aluru (2010)
Thomas Conte (2005)
Krishan Palem (2004)
Ronald Arkin (2003)
Mostafa Ammar (2001)
Peter Freeman (1997)
James Foley (1986)
I/ITSEC Fellows
ISCB Fellows
Non-Resident Fellow, Center for Democracy and Technology
SIAM Fellow
Edmond Chow (2021)
Srinivas Aluru (2020)
Ümit Çatalyürek (2020)
Haesun Park (2013)
Prasad Tetali (2009)
A. Richard Newton Educator Award
ACADIA Award
ACM/CHI Award (CHI Academy)
Amy Bruckman (2018)
Thad Starner (2017)
John Stasko (2016)
Keith Edwards (2014)
Rebecca Grinter (2013)
Elizabeth Mynatt (2009)
Gregory Abowd (2008)
James Foley (2001)
ACM Distinguished Educator
ACM Eugene L. Lawler Award for Humanitarian Contributions within Computer Science & Informatics
Gregory Abowd (2010)
Gregory Abowd (2009)
ACM Gordon Bell Prize
Toby Isaac (2015)
Rich Vuduc (2010)
George Biros (2010)
Edmond Chow (2009)
ACM Karl V. Karlstron Outstanding Educator Award
Mark Guzdial (2010)
Barbara Ericson (2010)
ACM/SIGGRAPH Computer Graphics Achievement Award
ACM/SIGGRAPH Coons Lifetime Achievement Award
ACM/SIGCHI Lifetime Achievement Award
ACM/SIGCOMM Rising Star Award
ACM/SIGGRAPH Significant New Researcher Award
ACM/SIGCHI Social Impact Award
ACM/SIGACT Donald E. Knuth Prize
ACM SIGSIM Distinguished Contribution in Simulation Award
Award of Excellence (Systems Research Foundation)
Edison Award, Productivity
Engelberger Robotics Award for Educations
Henrik Christensen (2011)
Fulkerson Prize
George M. Sprowls Award
Jinwoo Shin (2010)
Nick Feamster (2006)
Yael Kalai (2006)
IEEE AI's 10 to Watch
IEEE Computer Society Undergraduate Teaching Award
IEEE VGTC Visualization Technical Achievement Award
IMA Leslie Fox Prize for Numerical Analysis
John V. Atanasoff Discovery Award
Lilian Gilbreath Lectureship from the National Academy of Engineers
Manufacturing Leadership Council, Supply Chain Excellence Highest Achiever
Richard A. Tapia Achievement Award for Scientific Scholarship, Civic Science and Diversifying Computing
R&D 100 Award
SEG Reginald Fessenden Award
Solid Modeling Association Bézier Award
SIAM Early Career Travel Award
SIAM SDM/IBM Early Career Data Mining Research Award
SIAM/Supercomputing Early Career Prize
Technology Review TR35 Award (includes prior TR100 winners)
Nick Feamster (2010)
Andrea Thomaz (2009)
Karen Liu (2007)
Amy Bruckman (1999)
Thad Starner (1999)
Fulbright Fellows
Norberto Ezquerra
Nancy Nersessian
Karsten Schwan
Fulbright Scholar
Guggenheim Fellows
Larry Sweet
Vijay Vazirani
Richard Lipton
Santosh Vempala (2005)
Kolon Faculty Fellow
Miller Institute for Basic Science Research Fellow
National Endowment for the Humanities (NEH) Fellow
Schlumberger Foundation Technical Fellow
Sloan Fellows
James Hays (2015)
Chris Peikert (2011)
Karen Liu (2010)
Nick Feamster (2008)
Adam Kalai (2008)
Subhash Khot (2006)
Dana Randall (2003)
Santosh Vempala (2002)
Elizabeth Mynatt (2001)
Dana Randall (2001)
Swarnajayanti Fellowship
Vannevar Bush Faculty Fellow
DARPA Computer Science Study Group
Rich Vuduc (2009)
Charles Isbell (2006)
DARPA Young Faculty Award
FIRST (First Independent Research Support Transition Award) National Library of Medicine
NSF Presidential Faculty Fellow
Lance Fortnow (1992-1998)
NSF Presidential Young Investigator Award
Kishore Ramachandran (1990)
Chris Atkeson (1988)
Vijay Vazirani (1987)
Craig Tovey (1985)
NSF National Young Investigator Award
Mary Jean Harrold
Jessica Hodgins
NSF CAREER Award
B. Aditya Prakash (2018)
Jacob Eisenstein (2015)
Le Song (2014)
Mark Riedl (2013)
Sonia Chernova (2012)
James Hays (2012)
Rich Vuduc (2010)
Nina Balcan (2009)
Alexander Gray (2009)
Adam Kalai (2008)
Karen Liu (2008)
Ümit V. Çatalyürek (2007)
Nick Feamster (2007)
Subhash Khot (2007)
Guy Lebanon (2007)
Gabriel Loh (2007)
Sasha Boldyreva (2006)
Mark Guzdial (2006)
Charles Isbell (2006)
Bruce Walker (2006)
Frank Dellaert (2005)
Milos Prvulovic (2005)
Tucker Balch (2004)
Constantine Dovrolis (2004)
Blair MacIntyre (2004)
Eric Vigoda (2004)
Yannis Smaragdakis (2003)
Jim Xu (2003)
Sauguata Basu (2002)
Wenke Lee (2002)
Jim Rehg (2002)
Beth Mynatt (2001)
Thad Starner (2001)
David Sherrill (2001)
Irfan Essa (2000)
Amy Bruckman (1999)
Sven Koenig (1999)
Ken Mackenzie (1999)
Leonard Schulman (1999)
Santosh Vempala (1999)
Gregory Abowd (1997)
Srinivas Aluru (1997)
Ann Chervenak (1997)
Dana Randall (1997)
Greg Turk (1997)
Thomas Conte (1996
Raja Das (1996)
Mark Guzdial (1995)
Ellen Zegura (1995)
NSF Research Initiation (RIA) Award
Santosh Pande (1995)
Thomas Conte (1994)
Ashok Goel (1992)
Mary Jean Harrold (1991)
John Stasko (1991)
Lance Fortnow (1990)
Kishore Ramachandran (1988)
Office of Naval Research Young Investigator
Sonia Chernova (2014)
Andrea Thomaz (2008)
Presidential Early CAREER Award for Scientists and Engineers (PECASE)
Dhruv Batra (2019)
Nick Feamster (2008)
Edmond Chow (2002)
Adobe Faculty Research Award
Amazon AWS Machine Learning Research Award
Facebook Faculty Research Award
Srijan Kumar (2020)
Polo Chau (2020)
B. Aditya Prakash (2015)
Google Faculty Research Award
Chao Zhang (2020)
Polo Chau (2015)
Jacob Eisenstein (2014, 2015)
Mark Riedl (2013)
IBM Faculty Award
Ashok Goel (2014, 2015)
Mary Jean Harrold (2008)
Srinivas Aluru (2007)
Nick Feamster (2007)
Jun "Jim" Xu (2006)
Thomas Conte (1996)
Dana Randall
Bill Rouse
IBM Faculty Partnership Award
IBM Research Faculty Fellow
IBM Young Investigator Award
Intel Outstanding Researcher Award
LexisNexis Dean's Excellence Award
Microsoft Research -- New Faculty Fellow
NVIDIA Professor Partnership
Schlumberger Foundation Technical Fellow
Gregory Abowd (2000-2001)
Sun Microsystems Academic Excellence Award
Yahoo Faculty Research and Engagement Program (FREP) Award
Every year, the College of Computing awards faculty and staff for their outstanding service and leadership. Browse a list of past award recipients or nominate faculty and staff for one of the College's Annual Awards.
Class of 1934 Distinguished Professor Award
Richard Lipton (2012)
James Foley (2008)
Class of 1934 Outstanding Interdisciplinary Activity Award
Santosh Vempala (2012)
Mark Guzdial (2001)
James Foley (1994)
Class of 1940 W. Roane Beard Outstanding Teaching Award
Don Bratcher Human Relations Award
Geoffrey Eichholz Teaching Award
Outstanding Service Award
Outstanding Innovative Use of Educational Technology Award
Outstanding Doctoral Thesis Advisor Award
Ling Lu (2012)
Gregory Abowd (2008)
Outstanding Faculty Leadership
Outstanding Professional Education
Outstanding Service Award
Sigma Xi Young Faculty Research Award
Advance Professor of Computing
Dana Randall
Mary Jean Harrold
Distinguished Professors
Gregory Abowd
Henrik Christensen
Richard DeMillo
Merrick Furst
Santosh Vempala
Regents' Professors
Beth Mynatt (2019)
Surya Kalidindi (2019)
Haesun Park (2019)
John Stasko (2018)
Gregory Abowd (2012)
Karsten Schwan (2010)
Richard Fujimoto (2007)
Nancy Nersessian (2007)
Janet Kolodner (2004)
Mostafa Ammar (2003)
Ron Arkin (2002)
Mark Borodovsky
John P. Imlay Jr. Dean of Computing
Charles Isbell
Zvi Galil (former)
KUKA Chair in Robotics
Seth Hutchinson
Henrik Christensen
Stephen Fleming Chair in Telecommunications
Frederick G. Storey Chair in Computing
John P. Imlay Jr. Chair in Software
Charlotte B. & Roger C. Warren Chair in Computing
J.Z. Liang Chair in Computing
John P. Imlay Jr. Chair II in Software
Frederick G. Storey Chair II in Computing
Stephen Fleming Chair II in Telecommunications
Catherine M. and James E. Allchin Early-Career Assistant Professorship
ACM Distinguished Scientist
Srinivas Aluru (2017)
John Stasko (2011)
Jun "Jim" Xu (2010)
Annie Antón (2009)
Keith Edwards (2009)
Beki Grinter (2009)
ACM Senior Member
Amy Bruckman (2009)
Frank Dellaert (2009)
Mark Guzdial (2009)
Gabriel Loh (2009)
Beth Mynatt (2009)
Milos Prvulovic (2009)
Jun "Jim" Xu (2009)
Albert N. Badre (2008)
Irfan Essa (2008)
Atlanta's Top Woman Innovator in Technology by Atlanta Woman Magazine
Gabriel Loh (2009)
Milos Prvulovic (2009)
Henrik Christensen (2008)
Ellen Zegura (2008)
Mary Jean Harrold (2003)
Annie Antón (2003)
Alex Goldstein (1999)
Ron Arkin (1991)
No. 1 Software Engineering Scholar in the World (Ranked by Communications of the ACM)
Regents Research in Undergraduate Education Award, University System of Georgia
Awards - Questions?
Contact:
Administrative Manager, Executive Assistant to the Dean