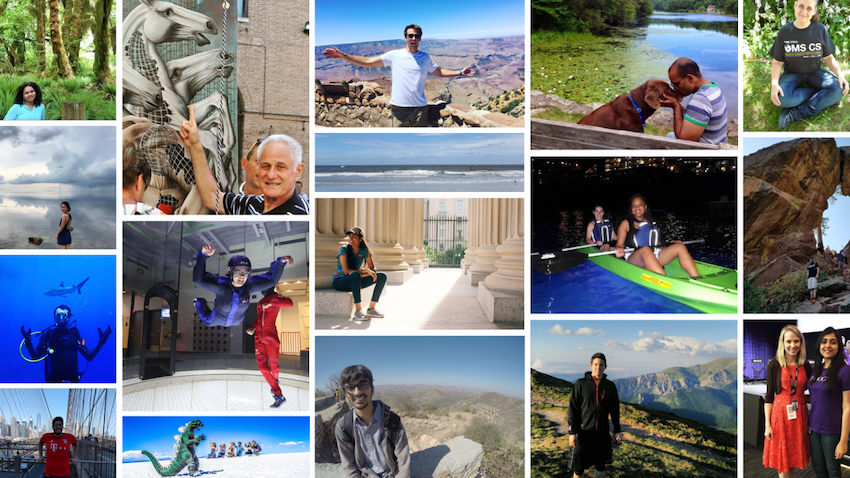 College of Computing Reveals Social Media Contest Winners
No matter where Georgia Tech computing takes you, the adventure never ends! This was the theme of the recently concluded #GTComputingAdventures social media contest sponsored by the College of Computing.
The contest launched June 15 and wrapped up Aug. 10. In that time, more than 150 photos from as far away as Patagonia and Kathmandu were shared to the College's Twitter, Instagram, and Facebook accounts using the hashtag, #GTComputingAdventures. Each person entering the photo contest will receive a t-shirt designed for the competition.
Two grand prize winners were also selected: one for the photo taken the farthest away from Georgia Tech, and one for the photo with the most likes. These winners will each receive a set of Beats by Dre headphones.
And the winners are…
OMS CS student Genevieve Hayes, aka @murderandagnst, shared the photo taken farthest away from campus. Posted on Twitter, her winning picture of the State Library of Victoria in Melbourne, Australia was taken 9,682 miles away from Georgia Tech.
Taken not quite so far away, the photo entry that earned the most likes depicts a view from Little Si, a mountain in Washington. Shared by Sana Ajani, a third-year Georgia Tech computer science major, this image earned 133 likes on Instagram. @comic_sana, as Ajani is known on Instagram, was in Washington this summer working as an Explorer Intern at Microsoft.
With the success of this summer's contest, the College of Computing is planning another #GTComputingAdventures contest for next year. Until then, the College encourages students, alumni, faculty, and staff to share their photos and adventures using the hashtag, #GTComputing.