Image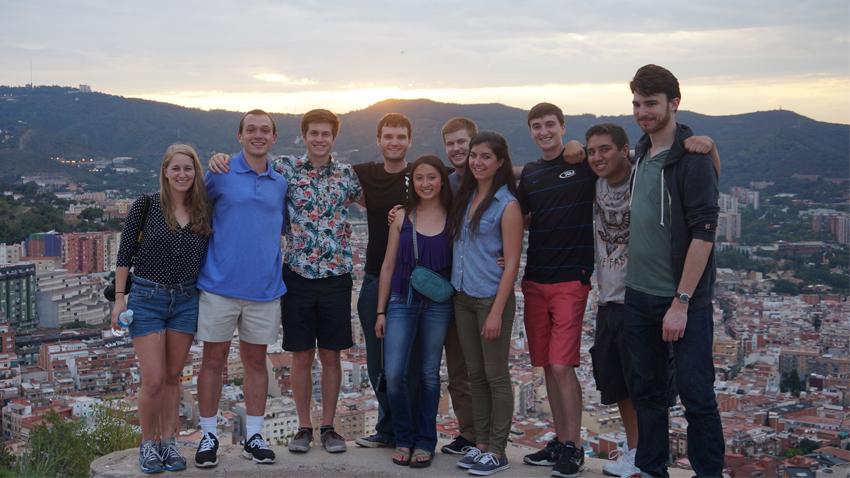 International Study - Barcelona Summer Program for Undergraduates
Barcelona, one of Europe's oldest metropolitan areas and a chief Mediterranean port, sits on Spain's southern coast 90 miles from the French border. The city is a center of Spanish and Catalan culture and has been called the "Paris of Spain." With its mountainous surroundings and gorgeous view of the sea, Barcelona makes for not only a rich gateway into European culture and history, but a beautiful locale for study and adventure—a great place to spend a summer!
Spend 11 weeks in Europe's Most Exciting City
All majors welcome

Select from courses in Architecture, Computer Science, Design, and others.

All classes taught in English-- no Spanish language required

Travel to other European cities during long breaks–Barcelona is only a few hours away by plane or train from Italy, France, UK, Germany, etc.

Most financial aid and scholarships applicable, including Zell Miller and HOPE for summer tuition.

All students pay GT in-state tuition based on 12 credit hours; save thousands in tuition.
---
Student Quotes
"There is a piece of me that will never leave here."
-- Gaby Halley, B.S. CM '08
"It is absolutely gorgeous! I get a break in the mornings, and I love just walking through the campus, or sitting under a tree, writing in my diary. The breeze, the environment, the bustling of the people, everything is just so perfect."
-- Sweta Vajjhala, B.S. CS '08
"Ten weeks went by so fast, but I did so much in such a short time."
-- Noah Goodwin, B.S. CS '10
"One of the things that I really loved about this program is that you are given everything you need to explore and learn such an amazing city! Even though you have all the freedom to explore on your own, it was really nice to have people that could give you pointers and recommendations whenever you get a little overwhelmed by the bustling city."
-- Preethi Narayanan, B.S. CS '22
For questions, email barcelona@cc.gatech.edu.
---
About Barcelona
Located on the Mediterranean Sea and offering a vibrant cosmopolitan atmosphere, Barcelona is the capital of Catalonia, a unique region of Spain. Known for its cultural and artistic heritage, Catalonia's contribution to 20th century art includes the architect Gaudí and painters such as Joan Miró and Salvador Dalí. Catalonia is a world-recognized model for blending art, culture, urban planning, and industry; the region combines a rich mixture of high-tech industries, culture, medical centers, and institutions of higher learning (numerous U.S. companies have a strong presence in Catalonia, and there are several colleges and universities serving the area). Both a major attraction and economically important aspect of Catalonia is its Mediterranean cuisine and its production of wines (such as Freixenet and Codorníu).
Barcelona was founded in the third century and has been ruled by Romans, Visigoths, Moors, and Franks over the centuries. The influences of these periods are still visible throughout the city. Since the Middle Ages, Barcelona has been a major port and commercial center, and is Spain's second largest city and a major industrial center.
Bounded by the Mediterranean Sea and the Pyrenees Mountains, Barcelona offers contrasting sights and experiences throughout the seasons and within relatively short distances. With the Costa Brava to the north and the Costa Dorada to the south, beautiful beaches surround this port city. Barcelona is close to Andorra and France, and also to the Balearic Islands (including its most famous island, Ibiza). There is an excellent, clean, and inexpensive network of bus, metro, and railroad services serving inner areas of Barcelona, as well as connecting the city to the region and the rest of Europe. In addition, a number of discount airlines flying into Barcelona (BCN) and the nearby Girona airport (GRO) render travel to destinations throughout Europe both inexpensive and flexible.
The people of Barcelona speak Catalan and Spanish, and many are fluent in French. Many Catalans speak English, as it is now required in public middle schools, and it is common to see signs in English and German, especially during the height of the summer tourist season. You need not speak Catalan or Spanish to fully enjoy Barcelona!
Barcelona is a city full of tree-lined boulevards, open spaces, and architectural diversity. Large public sculptures abound throughout the city, and the people of Barcelona (as do most Spaniards) take to these public parks and boulevards for their daily afternoon stroll (paseo). The city has preserved numerous historic places and combined them with the very modern. As host of the 1992 Summer Olympics, a number of new structures have emerged, with some areas within the city literally added by extending the land toward the sea. Perhaps the most striking aspect of Barcelona is the cultural pace of the city: each week, there are countless fairs, expositions, exhibits, performances, and artistic events from which to choose. Moreover, Barcelona has an amazing diversity of restaurants and cafes offering superb culinary experiences as well as informal, low-cost meals. And of course, there are the beaches. It is no wonder that Barcelona is a major tourist center and an increasingly active port of call for cruise ships. One of the most noteworthy and interesting characteristics of Barcelona is its dynamism: the city has continually re-invented itself by fusing art, history, politics, environmental concern, and commerce in what is generally considered to be a model of urban planning and development.