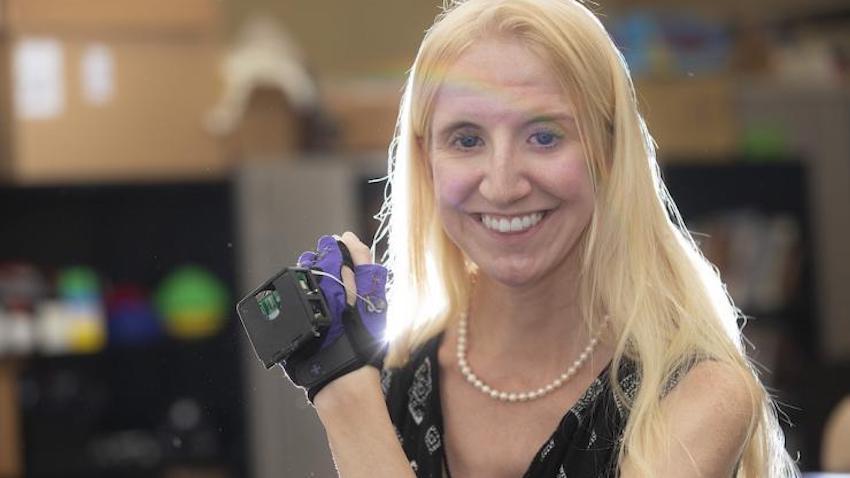 IC's Caitlyn Seim to Serve as Spring Ph.D. Commencement Speaker
School of Interactive Computing Ph.D. student Caitlyn Seim will serve as commencement speaker for the Georgia Tech Ph.D. graduation ceremony on May 3.
Seim, who is advised by IC Professor Thad Starner, was chosen by a committee of leaders from across campus, including the Office of the Dean of Students, various faculty, and commencement officials. The process included an audition of a speech written by Seim.
Having recently defended her dissertation for her degree in Human-Centered Computing, Seim said that she is honored by her selection and opportunity to share the stage with Georgia Tech President Bud Peterson and Vice Provost for Graduate Education and Faculty Affairs Bonnie Ferri.
"I am so thrilled to represent the graduating class, and I can't wait to share my message about the importance of research," Seim said. "I love Georgia Tech so much. After all my time here, I still enjoy it as if it were my first day on campus."
Seim, whose research in wearable computing and passive haptic rehabilitation has been covered extensively by external media, said that in her speech she hopes to help graduates think about a recent realization that she had.
"That is the significant role we have in society's progress," she said. "It's about the formation of knowledge and how Ph.D. students are uniquely trained to evaluate fact and expand what society can achieve. My training in the Human-Centered Computing program actually helped me to begin recognizing this by introducing me to the concept of epistemology."
Looking back, Seim will remember Georgia Tech as a unique student body and a beautiful campus.
"For me, I have to put special emphasis on the academic community," she said. "The faculty made learning a great experience, and as a graduate student I felt like I was really part of a community. The student researchers who I mentor continue to impress me and consistently show curiosity, respect, and dedication. It has been a pleasure working with everyone."
The Ph.D. commencement ceremony will take place at 9-10:30 a.m. Friday, May 3, at McCamish Pavilion. Ferri will also speak. No tickets are required for the event.