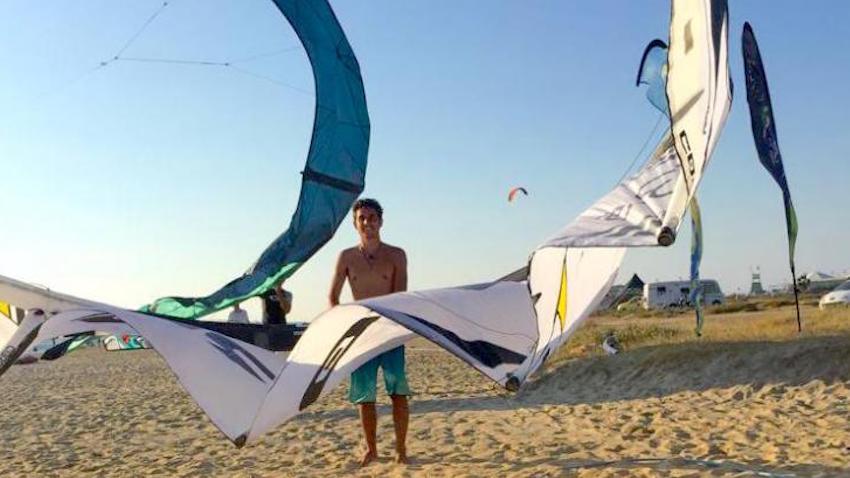 Fast Times at Student Startup as Global Client List Grows
All they need are some tasty waves and a cool breeze, and kitesurfing instructors are fine.
But no wind, no waves means no dice for scheduled client lessons, likely leading to long hours of rescheduling work and potentially lost revenue for these small business operators.
Seeing a business-to-business opportunity, an Atlanta-based startup has developed a suite of cloud-based services tailored to help kitesurfing instructors manage and grow their businesses.
Board Off–founded in 2018 by four Georgia Tech computer science (CS) majors–released the first version of its product in June. The company now has 30 clients in 17 countries and is on the verge of securing its first round of venture capital funding.
There are other business management apps out there, "but they can be complicated and difficult to use, which is why they have no adoption in this market," said Philippos Tsamantanis, Board Off co-founder and third-year CS major.
"We are helping people who never went to business school share their passion by giving them tools to efficiently manage their businesses so they can spend more time doing what they love," said Tsamantanis, who has been kitesurfing since he was 11 and is the inspiration behind Board Off.
Along with scheduling tools for clients, employees, and equipment, Board Off's B2B services provide customer, marketing, and business analytics capabilities.
"People working in this industry aren't always the most tech-savvy, which requires us to make the product as easy to use as possible," said Zach Panzarino, co-founder and third-year CS major. "So, we approach every new feature with a focus on good design that minimizes the number of clicks required to complete a certain task." 
The focus on meeting customer needs and "good design" has become a hallmark of the company, which began as one of 40 teams in CREATE-X's 12-week Startup Launch Program at Georgia Tech in late 2018.
"During the phase of customer research we were setting up phone calls with center owners around the world in order to identify their problems and tailor our solution toward them," said Talib Kateeb, co-founder and alumnus (BS CS 2019).
"Many of our clients have told us that scheduling is consistently a major pain because of the unpredictability of the wind and water. We have been working on making scheduling and rescheduling an easy process that now takes minutes rather than hours," Kateeb said.
With its initial success in the kitesurfing market, Board Off is beginning to expand to other watersport sectors and is now acquiring clients that offer windsurfing, surfing, and stand-up paddleboarding at their centers.
Along with this vertical expansion, the company believes it can ultimately expand horizontally as well.
"Vertically, Board Off could become the leading company in digitizing the watersports industry from both a business and consumer perspective. Horizontally, the core backend software is applicable in many industries such as landscaping, pilot schools, yoga studios, and more. I see a bright future for the company," said Kateeb.
Despite having a bright future, it hasn't always been smooth sailing for Board Off. In fact, the team was initially rejected following their first interview to participate in the CREATE-X Startup Launch.
"I didn't know if my idea was good enough to help people, but we did research for a few months and I started to feel more certain that we were on to something. Then, we got rejected by CREATE-X," said Tsamantanis.
 Undaunted by the setback, Tsamantanis, Panzarino, Kateeb, and fellow co-founder and CS major Sudharshan Venkatesh kept at it. After coming back to the table with actual customers using their product–something that set them apart from most of the other teams–Board Off was accepted by CREATE-X.
"The most important lesson I've been taught from this past year is to constantly give 100 percent even when I'm not sure," said Tsamantanis.