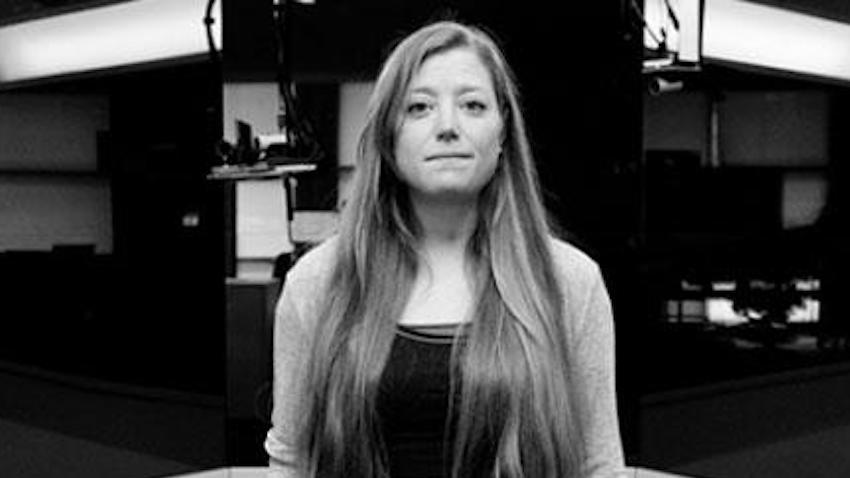 IC Student Ceara Byrne Trades Dog Toys for Masks to Chip in on Covid Relief
What do dog toys have to do with Covid-19 pandemic relief? Leave it to a Georgia Tech student to find a connection.
School of Interactive Computing Ph.D. student Ceara Byrne, whose primary research focuses on instrumenting dog toys with various sensors to measure canine behavior, found a way to contribute to the cause when she was approached by a fellow Georgia Tech student for assistance in 3D printing.
Lee Whitcher, a Ph.D. student in the Daniel Guggenheim School of Aerospace Engineering, had already joined colleagues from the Georgia Tech Research Institute and George W. Woodruff School of Mechanical Engineering to design and manufacture personal protective equipment (PPE) like face shields to supplement the available supplies in the Atlanta area.
The work from GTRI and ME assisted in hospitals, and Whitcher's work – a non-profit called Atlanta Beats COVID – aimed to design and produce masks and ventilators that could be produced by non-engineers wherever they are needed.
To do that, Whitcher and his partners needed a 3D printer that could cast the negatives for the masks. Georgia Tech's GVU Prototyping Lab in the Technology Square Research Building had just what they needed. So did Byrne.
Byrne has been using the Prototyping Lab's printer for a while now to develop negatives of the silicone dog toys she uses in her research. Byrne's work involves studying behavior in canines to understand temperament for service animals.
"I was inspired by a friend from high school who grew up on a ranch," Byrne said. "She and I got involved in 4-H. When I came back for a master's degree, I started working with Thad Starner and Melody Jackson on the FIDO project. I started noticing these aspects of the data that were reflective of dog temperament like drive and how they tackle activities. It really interested me."
Part of the research was to find good ways to measure that temperament beyond just visual observation. One solution was to place sensors into toys to take measurements as the dog played with it.
"I've used the Prototyping Lab to 3D print my negative molds so that I can silicone cast the positives like balls and tug toys," Byrne said. "It's a long process of finding the right silicones, materials, hardness.  For the toys, I went through three or four different molds to find the right way to actually cast the parts. It was a lot of experimenting."
That experimentation made her uniquely prepared to chip in with Whitcher's project when Covid-19 hit. Looking for a way to develop the right mold for easy do-it-yourself mask production, Whitcher turned to Byrne for assistance.
"There are a number of aspects to it," Byrne said. "How do you de-gas some of the silicone? When you have a mask, you can't have the bubbles in the mold because you need a seal. How do you do it with the vacuum? If there's no vacuum available, what are some easier ways? How do we make these negatives properly, and how many can you cast at once? What are the environmental aspects when you do it from home?"
These are all questions Byrne has had to explore when it comes to her dog toys. The experience proved useful in the mask production, as well.
Byrne was happy to get involved in pandemic relief assistance. She has brothers and sisters-in-law who are doctors.
"They've been amazing in helping around the community," she said. "My brother is making masks, which I think is fascinating. He's a radiation oncologist and has built respiratory masks with the Pancreatic Cancer Foundation. So, I wanted to help out in any way that I could, as well."
Being at Georgia Tech, she said, made the collaboration a natural occurrence.
"That's what makes Georgia Tech unique, right?" she said. "We can collaborate across these disciplines that maybe don't connect to each other on the surface."
Read more about the relief effort, how to request PPE, and how to get involved at AtlantaBeatsCOVID.com.