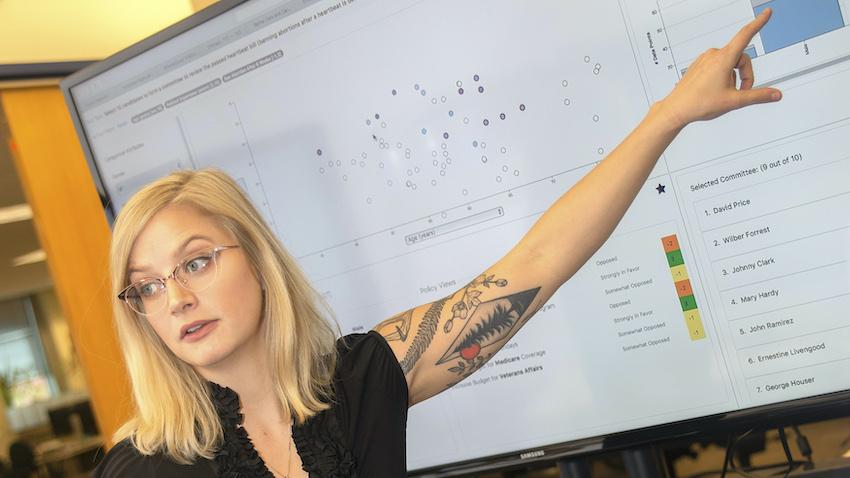 Computing Ranks Well for Gender Diversity Says Industry Report
A recent industry report finds that Georgia Tech is doing comparatively well when it comes to the gender diversity of its computer science (CS) faculty.
The report from CrowdStrike, a global cybersecurity company, says that Georgia Tech ranks second in the U.S. for gender diversity among CS faculty. According to the report, women comprise 23.8 percent of the CS faculty at Georgia Tech.
"Pushing forward on gender equity is a top strategic driver for the College and the Institute so I'm pleased that we have ranked well in this report. There is still much to be done, but this is solid evidence that our efforts to even the playing field are paying off, and that we are moving in the right direction," said Charles Isbell, Georgia Tech dean of computing and John P. Imlay Jr. chair.
In the report, Duke University ranks first with women making up 27.4 percent of its CS faculty. Harvard University ranks third with 23.7 percent female CS faculty. The U.S. average is 18.7 percent.
The analysis examined faculty listings on websites for the top 25 CS schools as ranked in U.S. News and World Report's 2018 graduate program rankings. It included data for professors, instructors, and researchers, but does not include staff members.
The reasons for bringing attention to gender diversity in computer science are clear. The CrowdStrike report references data from a recent Microsoft survey that showed that women are 52 percent more likely to stay in STEM fields if they have a female role model.
According to the report, "The fewer female computer science academics there are, the less likely female students are to continue to study computer sciences, graduate with a computer sciences degree and go on to inspire other females to do so."
"I'm exceedingly proud of our female faculty members. The mentorship, leadership, and guidance they provide, and the example they set, are vitally important to the ongoing success of our female students at every level," said Isbell.
Along with this encouraging news about faculty gender diversity, the College is also seeing positive growth in female student enrollments.
Nationally, 18 percent of undergraduate CS majors are women. According to enrollment data, 27 percent of CS majors at Georgia Tech are women. The percentage of female CS Ph.D. students nationally is 21 percent, while at Tech 24 percent of CS Ph.D. students are female.
Overall, total female enrollment in B.S., M.S., and Ph.D. programs, has grown from 16 percent of GT Computing students a decade ago to 21 percent today. This equates to 31 percent growth in female enrollment in the College over the past decade.
CrowdStrike co-founder Dmitri Alperovitch is a Georgia Tech College of Computing alumnus.