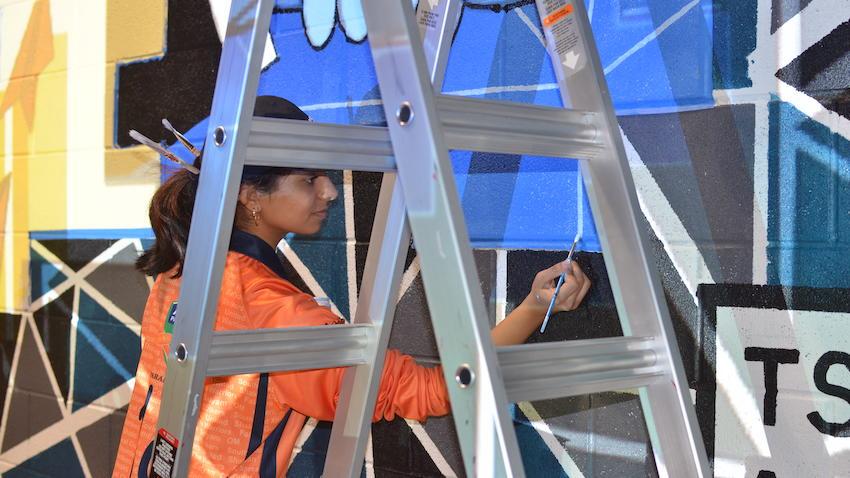 New Mural Illustrates the Power of Innovation and Community
Not only is Startup Exchange – Georgia Tech's student-led entrepreneurial community – inspiring new business ventures, it's also inspiring new works of art.
A mural celebrating the power of innovation and community was unveiled earlier this month at the Tech Square Atlanta Social Club (TSQATL) on Spring Street in Midtown Atlanta. The 21 x 15-foot painting is a collaboration between Startup Exchange and TSQATL and is intended to visually represent the shared mission of both groups.
Second-year Computational Media student Shruti Vedula was the driving force behind the mural titled, The Symphony of Innovation. She serves as marketing director for Startup Exchange and worked with her team members to develop the mural concept.
"I hope that when people see the mural, they feel the depth of the colors, the power of each symbol, and the balance of shapes and styles that make up the mural," Vedula said.
"I also hope that people appreciate the power of art and design when they see this mural because, in such a technologically driven world, it is art and design that gives relief to the eye and allows us to connect to the world around us in a deeper way."
The mural is sectioned into six monochromatic sections. With the Startup Exchange logo leading off in the upper left corner of the piece, each of the group's five focus areas ­– logistics, marketing, growth, partnerships, and fellowship – is highlighted.
More information about the mural and the symbolism found in each of the sections is available in this article.