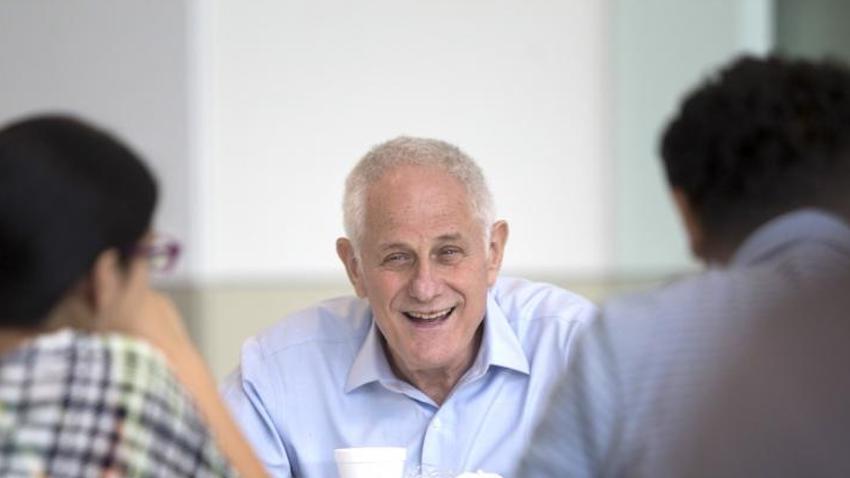 New Endowed Chair Honors Inclusion and Diversity
More than 100 individual donors have come together to endow the Zvi Galil PEACE Chair in the College of Computing. The future holder of the chair will be tasked with ensuring that Georgia Tech's computing programs are accessible, equitable, and diverse.
The chair is named in honor of former John P. Imlay Jr. Chair and dean, Zvi Galil, who served in this capacity in the College of Computing from 2010 to 2019. Under his leadership, the College saw significant growth in enrollment at both the undergraduate and graduate levels. He led the creation, launch, and the first five years of the Online Master of Science in Computer Science (OMSCS) program.
Galil, who was born in Tel Aviv in 1947, earned a bachelor's and a master's in applied mathematics from Tel Aviv University before earning a Ph.D. in computer science from Cornell University in 1975. His storied career includes serving as chair of the computer science department at Tel Aviv University (1979 – 1982) and Columbia University (1989 – 1994), dean of The Fu Foundation School of Engineering and Applied Science (1995 – 2007), and president of Tel Aviv University (2007-09). Galil is a member of the National Academy of Engineering and a fellow of the American Academy of Arts and Sciences and has written more than 200 scientific papers, edited five books, and lectured in 25 countries.
Despite such a compelling resume, Galil said OMSCS is "the biggest thing I've done in my life," pointing to the program's national and international popularity due to its high academic quality, accessibility, low cost, and flexible scheduling. "I am honored and thankful to be recognized and remembered for fulfilling the pledge of Progress and Service," he added.
The Galil PEACE Chair is both a tribute to Galil's legacy and a challenge to create increasingly diverse and equitable approaches to computing education.
PEACE stands for Pervasive Equitable Access for Computing Education. "Equitable access is central to the College's mission and history," said Charles Isbell (BS ICS 90), College of Computing dean and John P. Imlay Jr. Chair.
"We have the OMSCS program and the Constellations Center for Equity in Computing. We partner with CEISMC and CEED and other programs both inside and outside Georgia Tech," Isbell said. "This chair holder will be central to the ongoing conversations about democratizing education, and as an advocate will ensure that our mission to work for equity and access in computing will continue to be a part of our future."
OMSCS, a completely virtual graduate program in computer science, was designed to address issues of accessibility, and currently has just under 11,000 students from across the country and around the world.
"OMSCS is bringing a master's program in computing to individuals who wouldn't otherwise have the opportunity to pursue one," said Reza Ghorieshi (BS CS 96), a member of the College of Computing Advisory Board.
Bev Seay, chair of the Board, led the fundraising effort as a means to honor Galil, bring computing education to underrepresented groups, and ensure the College continues to produce top-notch graduates.
"I don't think any other university has an endowed chair like this that is devoted to access and equity in computing," Seay said.