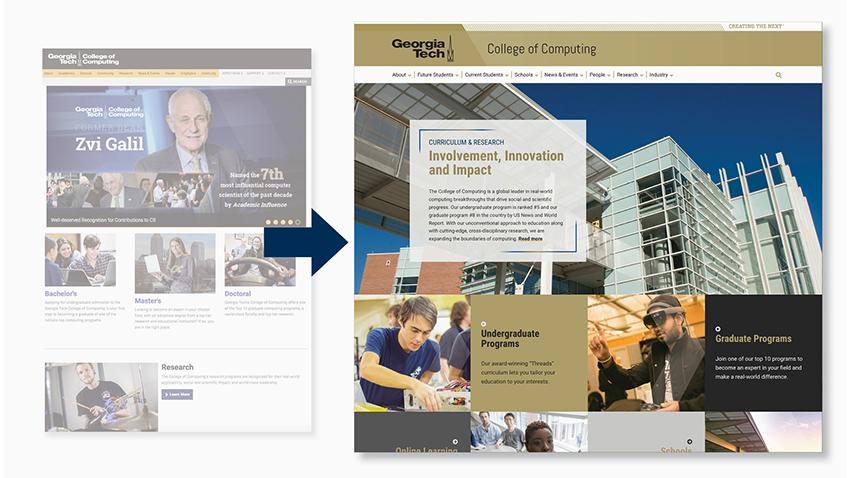 New Web Experience Launches with Focus on Users' Needs
The College of Computing is set to launch a newly designed website on Aug. 20. 
The new site will provide a faster and more user-friendly digital experience while offering greater accommodation for those with accessibility needs.
Two major components of this redesign include menus organized by user groups rather than by departmental structure and an enhanced mobile-friendly experience that is compatible with all major browsers and across all devices. 
This new streamlined experience is further complemented by the updated Georgia Tech branding theme which features the iconic Tech Gold header and characteristic Institute-wide slogan, Creating the Next.
Users will notice a number of other engaging new features. These include being able to sort faculty members by their school affiliation and the ability to sort events by type and function.
The research needed to complete such a major transformation was compiled by two student teams from the School of Interactive Computing master's in Human Computer Interaction (HCI) program. 
Team members Harshali Wadge, Santiago Arconada Alvarez, Prabodh Sakhardande, Shihui Ruan, Jordan Hill, Jordan Cox, Chaoyuan Luo, Yuhan Zhou, and Lu Meng were all leads on this research as part of the HCI Special Topics class taught by Senior Research Scientist Carrie Bruce. 
These student teams spent the 2019 Fall semester assembling a series of evidence-based design methods, field surveys, and testing groups that were used to inform the overall user experience of this new site.
With the student teams' initial research and the efforts of a dedicated team of staff, the college has successfully condensed several thousand pages of content into hundreds. This aggregation and purging of old content will allow all audiences to enjoy a more up-to-date and direct experience.
For any questions, suggestions, or updates upon launch, please complete the Website Feedback Form which is located on the main menu under the About dropdown tab.