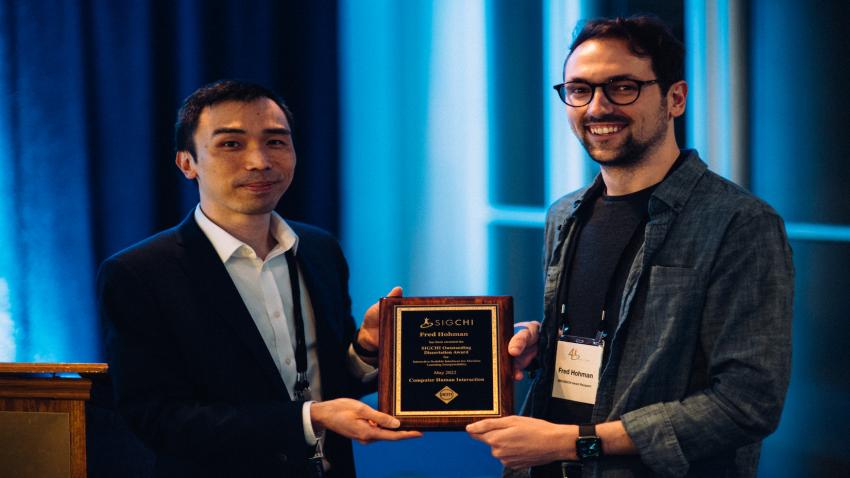 Alumnus Building Legacy through Dissertation and Mentorship
Due to its tradition of excellence and history of graduating distinguished alumni, Georgia Tech can be a tough place to leave a lasting impression. However, one School of Computational Science and Engineering (CSE) alumnus is well on his way to crafting his own legacy as one of the School's most influential alumni.
Earlier this month, CSE alumnus and current Apple research scientist Fred Hohman received ACM SIGCHI's 2022 Outstanding Dissertation Award for his dissertation, Interactive Scalable Interfaces for Machine Learning Interpretability.
SIGCHI is the premier international society for the study of human-computer interaction and typically only presents two or three outstanding dissertation awards per year.
"It's kind of unbelievable because you never expect this sort of thing to happen," Hohman said. "I'm honored and still surprised to see my dissertation highlighted and recognized."
Along with recognition at CHI 2022 this year, Hohman's dissertation also earned him an award at the College of Computing's 31st annual awards celebration held in April.
If the recognition his dissertation has garnered wasn't impressive enough, Hohman presented at CHI 2022 two other papers he co-authored. There, he received a best paper award for Neo: Generalizing Confusion Matrix Visualization to Hierarchical and Multi-Output Labels.
"I'm humbled. My dissertation sits on the shoulders of giants, and there are many people that were inspirational and had similar ideas that influenced my work as well," he said. 
Hohman describes his graduate experience and dissertation as humbling because of his apprehensiveness when he arrived at Georgia Tech in 2015. Though he graduated from the University of Georgia with bachelor's degrees in mathematics and physics, Hohman didn't know basic computer science skills like coding.
CSE's interdisciplinary nature interested Hohman to study at Tech in the first place. Access to faculty and students eased Hohman's imposter syndrome, and he thrived as a graduate student.
"Between the College of Computing, multiple schools, and labs, it was clear people valued collaboration."
Hohman studied under School of CSE Associate Professor Polo Chau and School of Interactive Computing Associate Professor Alex Endert. There, he was a member of Chau's research group, the Polo Club of Data Science.
While at Georgia Tech, Hohman interned with the Pacific Northwest National Lab, the NASA Jet Propulsion Lab, Microsoft Research, and Apple. In fact, a NASA Space Technology Research Fellowship supported his dissertation.
"Those summer internships were foundational to my thinking, my dissertation, what I'm doing now and what I want to do in the future," said Hohman. "That was another reason why I chose Georgia Tech and to work in Polo's lab. I found myself bringing ideas back from each summer into the next academic year and incorporating them into my dissertation."
It was around this time when Hohman began to distinguish himself as a scholar decorated in character, not just achievements. Just as he leaned on colleagues to grow confident at Georgia Tech, Hohman used his experience to help others.
Drawing from his experience as a tutor at UGA and graduate teaching assistant at Tech, Hohman independently mentored eight students during his time at Georgia Tech.
Even more enduring is Hohman's website where he shares most of his published work, including his dissertation. This includes videos of his thesis defense and his award talk at CHI 2022. This serves as a resource for aspiring scholars to replicate success in their own research efforts to this day.
The student body showed appreciation of Hohman's leadership when they elected him as vice president of the School of CSE Graduate Student Association from 2018 to 2020.
"I am a strong believer in mentorship for younger students in the lab. I really wanted to try to give back from the mentorship I received from my internships," Hohman said. "I think that I brought some of the Tech mentorship from Polo's lab to Apple."
Today, Hohman designs and develops interactive interfaces at Apple to help people understand machine learning models and data-driven systems. He also mentors Ph.D. students much like he did at Georgia Tech.
Hohman continues to make a name for himself through his dissertation and other research. But his legacy will resonate through the countless people who will go on to achieve in their own ways under his mentorship, influence, and inspiration.
"My best memories of Georgia Tech are meeting graduate school students that I now call lifelong friends," Hohman said. "The community and friendships that I've made will outlast much of the other stuff like my awards and my work."