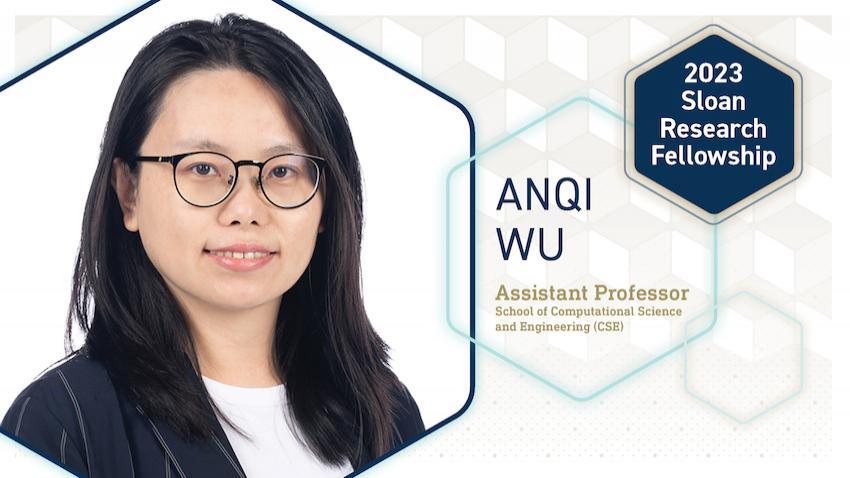 Anqi Wu Awarded 2023 Sloan Research Fellowship
Anqi Wu, an assistant professor in Georgia Tech's School of Computational Science and Engineering (CSE), has been selected to the 2023 cohort of the Sloan Research Fellowship announced Feb. 15.
Wu joins a cohort of 124 other young scientists from across the U.S. and Canada selected for one of the most competitive and prestigious awards available to early-career researchers.
Joining Wu this year from Tech is Jeffrey Markowitz, an assistant professor in the Wallace H. Coulter Department of Biomedical Engineering. In all, 47 faculty from Georgia Tech have received Sloan Fellowships since the award began in 1955.
"Anqi is a talented and dynamic researcher that is already making significant contributions to better understanding how the brain works early in her career," said Haesun Park, Regents' Professor and School of CSE chair. "Anqi reflects the best of Georgia Tech and I'm proud of her accomplishments and that she is part of our team."
Funded by the Alfred P. Sloan Foundation, fellowships award rising scientists $75,000 over a two-year term on any expenses supporting their research.
The Sloan Foundation offers fellowships to rising scientists across seven fields: chemistry, computer science, earth system science, economics, mathematics, neuroscience, and physics. Wu received the Sloan Fellowship in neuroscience for her impactful research in the field.
"The fellowship provides significant financial support for my early-stage research career. I will use it for the research on developing advanced statistical models for neural and behavioral data analyses," Wu said. "My hope is to help experimental neuroscientists to decipher the massive datasets they collect and provide interpretable insights into our brain."
Wu's research goals are to discover scientifically interpretable patterns underlying neural populations and behaviors, understand sophisticated neuro-behavioral relationships, and promote scientific discovery in neuroscience.
Specifically, her lab develops scientifically motivated machine learning models for neural and behavior data analyses in collaboration with experimental neuroscientists.
Wu aims at leading next generation computational neuroscience by developing integrated data analysis tools to provide systematic and comprehensive understandings of neural mechanisms and biological functions and pushing the boundary of computational models for neuroscience.
Wu's work led her to establish her research group, the BRAin INtelligence and Machine Learning (BRAINML) Laboratory. She is also affiliated with the Machine Learning Center at Georgia Tech, Neuro@GT, and the Georgia Tech Interdisciplinary Bioengineering Graduate Program.
Along with receiving the 2023 Sloan Research Fellowship, Wu was recognized as a DARPA Riser in October 2022 at the DARPA Forward conference.
"I am truly honored to be selected as a Sloan Fellow," Wu said. "I'm deeply grateful that my research has been recognized by the prestigious Alfred P. Sloan Foundation."