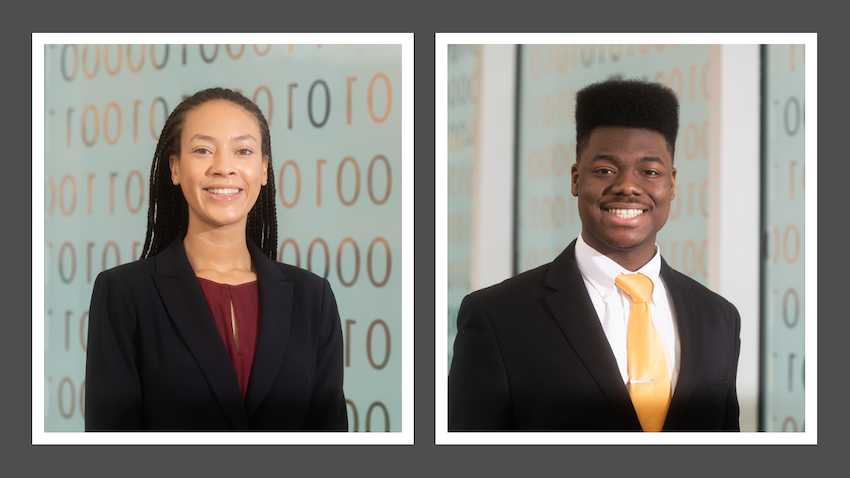 Black History Month: Doing the Work
Black History Month is a time to reflect on African Americans' achievements and struggles. It's also a time to highlight individuals who, today, are doing the work to make society more just and more inclusive.
This work is happening across Tech's campus, by students and researchers who focus on race-related or antiracist technology and research, and by those who, simply by existing and thriving in spaces where they are underrepresented, are helping to bring about change.
Doing the Work introduces you to a few of the people who are making a difference in the Tech community and beyond.
Below are two computer science majors that are highlighted in a broader story published on the Institute's News Center featuring students from across campus. 
Assata Quinichett
Computer science summer programs and high school courses inspired Assata Quinichett's love of problem solving.
Now a third-year computer science major at Tech, Quinichett is the current co-president of Minorities @ the College of Computing (M@CC), an organization that strives to create a space where underrepresented people can feel comfortable and supported in their academic and professional pursuits in computer science. Traditionally, computer science is an overwhelmingly white male field, and M@CC provides targeted resources for academic and career development, as well as social support for students.
In her time studying computer science, Quinichett has routinely felt the isolation of being one of a small number of Black women in classes and at work. She decided to take a leadership role in M@CC so she could create spaces that alleviate the feeling of isolation. She credits M@CC for helping her professional, academic, and social development at Georgia Tech.
Quinichett's long-term goal is to be a CEO for an influential technology company, aspiring to leverage the position and influence to increase the number of women and people of color in computer science.
Lawrence Williams
Growing up with a fascination about websites and applications from using his family's desktop computer, Lawrence Williams knew that majoring in computer science was the best way to learn about a field that had always interested him.
He joined M@CC as a first-year student and currently serves as co-president. The group provides a space where underrepresented students can find resources and opportunities for career development and a peer support network.
Williams is still in the process of choosing his next career step, but hopes to settle in a place where he can express his creativity, advocate for accessible technology, and create growth opportunities for people of color in the tech world.
Story and photos courtesy of Institute Communications
Writer: Evan Atkinson
Editor: Stacy Braukman
Photography: Allison Carter