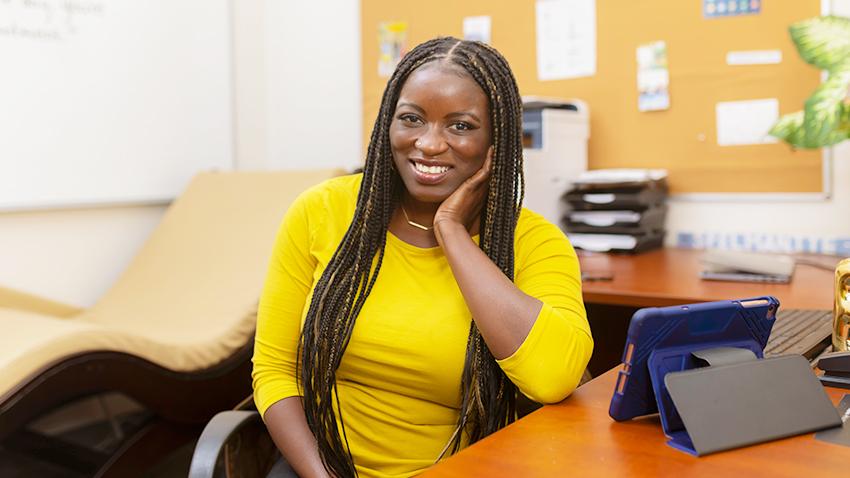 Black History Month: A Wellness Check-in
The national theme for Black History Month 2022 is health and wellness, and we are fortunate to have access to health and wellness resources at the College of Computing.
Rabi'ah Jamar is the resident mental health counselor at the College. With more than seven years of experience as a mental health clinician, Jamar is a champion for mental wellness and self care.
As such, she focuses on building strong relationships with her clients by meeting them wherever they are in their therapeutic journey. By centering on their strengths and resilience, and supporting them in reaching their potential, Jamar works to empower them to be agents of their change and healing.
As a champion of mental wellness and self-care, Jamar takes every opportunity to dispel the most harmful myths people encounter about mental health issues.
Mental issues are caused by personal weakness.

That people with mental health issues are being dramatic, implying that the feelings can be just "shaken off."
"Mental issues can be caused by many things, stressful jobs, school, trauma, abuse, and chemical imbalances in some cases. It's important that if anyone is feeling sad or down for more than one to two weeks, they seek professional support," said Jamar.
Knowing the signs of mental health issues is necessary for being an agent of your wellness. She suggests keeping an eye out for these specific symptoms:
Sad or withdrawn for more than two weeks

Noticing changes in your ability to function for an extended period

Problems with sleep for an extended period

Extreme weight loss or weight gain

Losing interest in things that you find pleasurable

Lack of focus or inability to focus
Prevention is always better than waiting until treatment is necessary. Healthy practices such as self-care and getting enough rest will help promote mental wellness. Here are some healthy practices Jamar suggests for promoting mental health:
Reading

Exercise or play sports

Being social / spending time with friends

Spirituality / Fellowship

Therapy

Sleeping

Journaling
Although Jamar is in the College of Computing building, there isn't currently an option for drop-in services.
There is, however, a process for qualifying for counseling services. If you're looking to get counseling services, reach out to CARE on the first floor of the Smith Gall building to schedule an assessment.
The Georgia Tech Counseling Center can be reached at 404-894-2575, weekdays from 8 a.m. until 5 p.m. When calling, ask to speak with the counselor on duty. To reach someone after business hours, call 404-894-3498 and select the option to speak to the after-hours counselors.
Other free crisis resources available 24/7:
Crisis Text Line: Text HOME to 741741 https://www.crisistextline.org/
Georgia Crisis & Access Line: 1-800-715-4225
National Hopeline Network, Suicide & Crisis Hotline: 1-800-442-4673
National Suicide Prevention Lifeline: 1-800-273-8255, or access text chat here https://suicidepreventionlifeline.org/chat/
Other useful web pages to explore:
Mental Health Resources: https://studentlife.gatech.edu/content/mental-health-resources
Thrive@GT: https://studentlife.gatech.edu/content/thrivegt
Georgia Tech Wellness Hub: https://gtwellnesshub.com/
Georgia Tech Counseling: https://counseling.gatech.edu/
Georgia Tech CARE: https://care.gatech.edu/