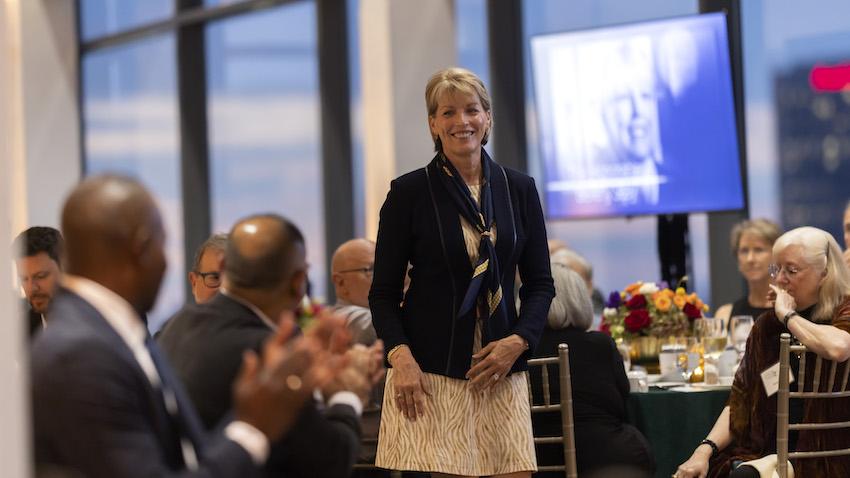 College Celebrates Latest Hall of Fame Inductees, Rising Stars
The downtown Atlanta evening skyline was a dramatic backdrop for this year's College of Computing Hall of Fame celebration.
College of Computing Dean Charles Isbell hosted more than 50 luminaries, VIPs, and distinguished guests from across the GT Computing community for the celebration held at Ventanas on May 12. The celebration included the announcement of four new Hall of Fame inductees and two 2023 Rising Star Award winners.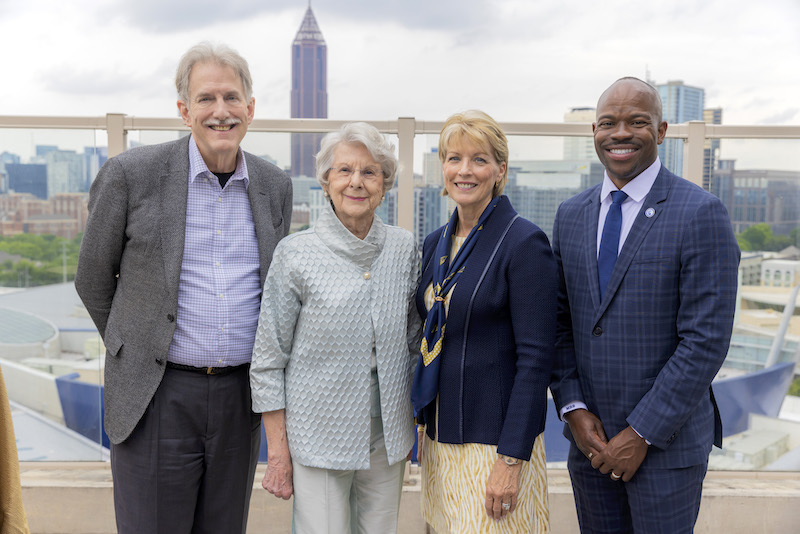 "We have gathered here tonight to honor the men and women who have gone above and beyond to build the College into the vital, innovative, entrepreneurial powerhouse that it is today," said Isbell, who also serves as the John P. Imlay Jr. Chair of Computing.
The College of Computing Hall of Fame inductees for 2023 are:
David Aucsmith (ICS MS 84)

M. Brian Blake (EE 94)

Philip Harrison "Phil" Enslow

The Honorable Beverly Seay
"Our Hall of Famers are those alumni, faculty, and friends who have contributed significantly to our advancement and reputation through the years. These are folks who have made a lasting impact on the field of computing, and on the Georgia Tech College of Computing," said Isbell.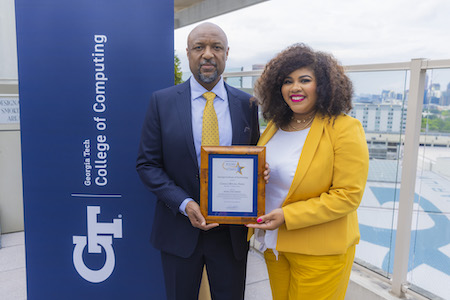 Winners of 2023 Rising Star Awards are:
Candace Mitchell Harris (CS 11)

Henry Shi (CS MS 18)
"These folks are earlier in their careers, but they have already made significant contributions to the field. It is because of folks like these that we stay in the top 10 in national rankings and have had the resources to support our ever-growing community,' said Isbell.
The College inducted its first Hall of Fame members in November 2018.
2023 Hall of Fame Inductees
Along with being a College of Computing Advisory Board member, David Aucsmith is a senior principal research scientist and an affiliate professor at the University of Washington. He is also the chief research scientist at Darklight AI, a cybersecurity company. Aucsmith has served as the senior director for Microsoft's Institutes for Advanced Technology in Governments, and as Intel's chief security architect. He holds 34 patents and has written two historical fiction novels.
M. Brian Blake is the president of Georgia State University. He has served as executive vice president of academic affairs and provost at both George Washington and Drexel Universities. He was the dean of the graduate school and vice provost at the University of Miami, associate dean for research at Notre Dame and chair of computer science at Georgetown University.
Phil Enslow, a professor of computer science, passed away last year. He was a pioneer in telecommunications and credited with having the first IP router at Georgia Tech in his lab. He served on a senior faculty board that helped Dean Peter Freeman establish the College of Computing.
Beverly Seay is the southeast regional director of the National Security Innovation Network. She recently served as director of the College's Advisory Board. Previously, Seay was a senior executive working on modeling and simulation in the defense industry senior executive. She has been named Businesswoman of the Year by i4 magazine and the Orlando Business Journal, and in 2021 she was inducted into the Mid-Florida Business Hall of Fame. In 2022, she received the Women in Defense Service to the Flag Award.
2023 Rising Star Award Winners
Candace Mitchell Harris is building the future of haircare. Her company, MYAVANA, uses an AI algorithm to analyze hair type and texture. It then makes personalized haircare recommendations. In the past few years, Mitchell has been named one of Forbes' 30 under 30, as well as one of Women's Wear Daily's Top 50 Beauty Innovators under 40, and one of Georgia Tech's 40 under 40. MYAVANA has been featured in Essence Magazine, Ebony Magazine, Marie Claire, and Business Insider.
Henry Shi is the co-founder and chief operating officer of Super, a mobile commerce and financial technology company. Under his leadership, Super has grown to more than 30 million users and exceeded $1 billion in sales. Prior to getting his MS degree through the OMSCS program, Shi graduated in the top 1% of his class at the University of Waterloo. Shi was also named one of Forbes' 30 Under 30 and one of Georgia Tech's 40 under 40.