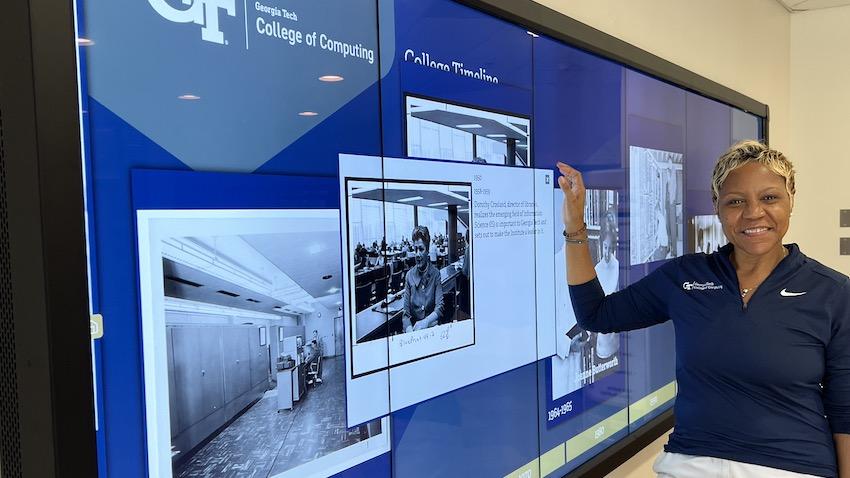 College of Computing's Hall of Fame Gets New Interactive Digital Home
Visitors to the College of Computing Building (CCB) will notice a big change just inside the front doors.
An interactive video wall was installed this week. The wall features six liquid-crystal-display (LCD) video panels, each with 1080p resolution. The six panels are connected to create screen that is nearly 14-feet long and four-plus feet tall.
The main purpose of the interactive video wall is to create a digital home of the College's Hall of Fame.
"We needed a way to highlight our Hall of Fame members and our Rising Stars that was highly accessible, interactive, and easy to engage with," said LaDonna Cherry, creative services manager for the College and project lead for the video wall. "This solution meets that need and allows for so much more."
The video wall has 32 touch points. This lets multiple users simultaneously learn about Hall of Fame members and Risings Stars, young alumni from the College who are making an impact on computing and computing education. The display will include photos, brief biographies, and other details about Hall of Fame members.
"As soon as students walk into the building they will see the Hall of Fame, which is to say, they'll see how far their Georgia Tech computing degree can take them. It will serve as history and inspiration," said Charles Isbell, College of Computing dean and John P. Imlay Jr. chair.     
Beyond the Hall of Fame, users can explore the College's history through an interactive timeline. The story wall also features information about the College's five schools, research activities, and more.
"The new video can also be used as a collaborative space that features messages about 'Read Week,' midterms, advising updates, scheduled holidays, and special events. We would also like to feature student, staff, and faculty profiles," said Cherry.
Those wanting to provide collaborative material, share an update, or promote a special event through the College's new story wall can email Cherry at lcherry@cc.gatech.edu.
The digital story wall replaces the photo display of people from the GT Computing community that had been in place for several years. The photos have been relocated to a busy hallway on the first floor of the CCB.