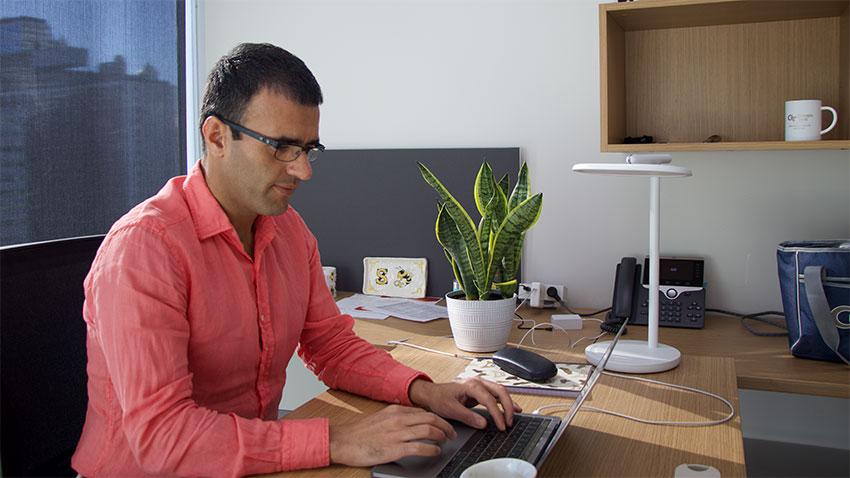 Cyber Faculty Sets Out to Protect Nation's Investment in AI Manufacturing
Advancement in technology brings about plenty of benefits for everyday life, but it also provides cyber criminals and other potential adversaries with new opportunities to cause chaos for their own benefit.
As researchers begin to shape the future of artificial intelligence in manufacturing, Georgia Tech recognizes the potential risks to this technology once it is implemented on an industrial scale. That's why Associate Professor Saman Zonouz will begin researching ways to protect the nation's newest investment in manufacturing.
The project is part of the $65 million grant from the U.S. Department of Commerce's Economic Development Administration to develop the Georgia AI Manufacturing (GA-AIM) Technology Corridor. While main purpose of the grant is to develop ways of integrating artificial intelligence into manufacturing, it will also help advance cybersecurity research, educational outreach, and workforce development in the subject as well.   
"When introducing new capabilities, we don't know about its cybersecurity weaknesses and landscape," said Zonouz. "In the IT world, the potential cybersecurity vulnerabilities and corresponding mitigation are clear, but when it comes to artificial intelligence in manufacturing, the best practices are uncertain. We don't know what all could go wrong."
Zonouz will work alongside other Georgia Tech researchers in the new Advanced Manufacturing Pilot Facility (AMPF) to pinpoint where those inevitable attacks will come from and how they can be repelled. Along with a team of Ph.D. students, Zonouz will create a roadmap for future researchers, educators, and industry professionals to use when detecting and responding to cyberattacks.
"As we increasingly rely on computing and artificial intelligence systems to drive innovation and competitiveness, there is a growing recognition that the security of these systems is of paramount importance if we are to realize the anticipated gains," said Michael Bailey, Inaugural Chair of the School of Cybersecurity and Privacy (SCP). "Professor Zonouz is an expert in the security of industrial control systems and will be a vital member of the new coalition as it seeks to provide leadership in manufacturing automation."
Before coming to Georgia Tech, Zonouz worked with the School of Electrical and Computer Engineering (ECE) and the College of Engineering on protecting and studying the cyber-physical systems of manufacturing. He worked with Raheem Beyah, Dean of the College of Engineering and ECE professor, on several research papers including two that were published at the 26th USENIX Security Symposium, and the Network and Distributed System Security Symposium.
"As Georgia Tech continues to position itself as a leader in artificial intelligence manufacturing, interdisciplinarity collaboration is not only an added benefit, it is fundamental," said Arijit Raychowdhury, Steve W. Chaddick School Chair and Professor of ECE. "Saman's cybersecurity expertise will play a crucial role in the overall protection and success of GA-AIM and AMPF. ECE is proud to have him representing the school on this important project."
The research is expected to take five years, which is typical for a project of this scale. Apart from research, there will be a workforce development and educational outreach portion of the GA-AIM program. The cyber testbed developed by Zonouz, and his team will live in the 24,000 square-foot AMPF facility.