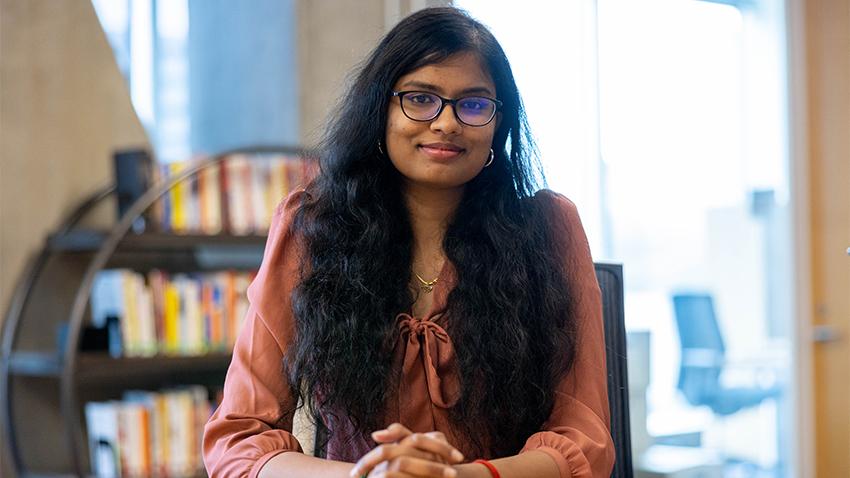 Cyber Student Receives $16,000 and Year-long Mentorship
Master's student Subhiksha Ramanathan is a step closer to her goal of working in financial technology thanks to the 2022 Women in Cyber Scholarship and the Karishma Babu and Vijay Balasubramaniyan Endowment Fund.
The awards are sponsored by the Financial Services Information Sharing and Analysis Center (FS-ISAC) and the Georgia Tech Foundation. Ramanathan is pursuing a Master of Science in Cybersecurity (MS Cybersecurity) at the School of Cybersecurity and Privacy (SCP) at Georgia Tech.
"I am extremely elated by these awards," she said. "I owe this to my parents and professors. They have been extremely supportive throughout my time at Georgia Tech." 
Recipients of the Women in Cybersecurity Scholarship are handpicked by FS-ISAC from a pool of international candidates. Winners receive a $10,000 award along with a pass to attend the organization's annual summit in Colorado and a one-year mentorship with Bank of America. 
Ramanathan first learned about the scholarship opportunity in her Information Security Policies class taught by SCP Professor Peter Swire. The master's student said Swire was among the first she reached out to when she received the news about winning the award.
"I am delighted that Georgia Tech helped prepare Subhiksha for winning this prestigious scholarship," said Swire.
When Ramanathan isn't in class or studying, she works with Georgia Tech faculty as a teaching or research assistant. She has worked extensively on research projects involving a confluence of cybersecurity and machine learning. She has worked on automated topic modeling of global cybersecurity strategies with Nadiya Kostyuk, assistant professor in SCP and the School of Public Policy (SPP). She has also assisted Research Scientist Maria Konte, by working on a network traffic anomaly analysis using machine learning. 
Now, Ramanathan works with Jon Lindsay, SCP associate professor jointly appointed with the Sam Nunn School of International Affairs, where she is focusing on the geopolitical arena of cybersecurity.
As a recipient of the Karishma Babu and Vijay Balasubramaniyan Endowment Fund, Ramanathan will receive a one-time fellowship award of $6,000. Managed by the Georgia Tech Foundation, the fund supports graduate students from India. 
The endowment was created thanks to a donation by Georgia Tech alumni Karishma Babu (MS ECE 09) and her husband Vijay Balasubramaniyan (Ph.D. CS 11). Ramanathan was nominated for the award by SCP Professor Mustaque Ahamad, who advised Balasubramaniyan when he was pursuing his degree at Georgia Tech. 
"It is wonderful that a current MS Cybersecurity student is chosen for a fellowship that has been established by a graduate of our MS Cybersecurity program and his wife," said Ahamad. 
"Subhiksha is a great choice for this fellowship because she is an outstanding student and her interests and expertise cover both technology and policy areas of cybersecurity."
With two awards under her belt, Ramanathan is preparing for her final semester at Georgia Tech. After she graduates next May, she wants to land a position at a top-tier financial institution as a comprehensive cloud security engineer. Regardless of the role, she wants to use the machine learning and cybersecurity techniques she learned at Georgia Tech and SCP to help with fraud detection and battling cyber threats.  
"It feels good to almost be done," said Ramanathan. "But I will miss Georgia Tech and SCP, it has been my entire life while I have been here."