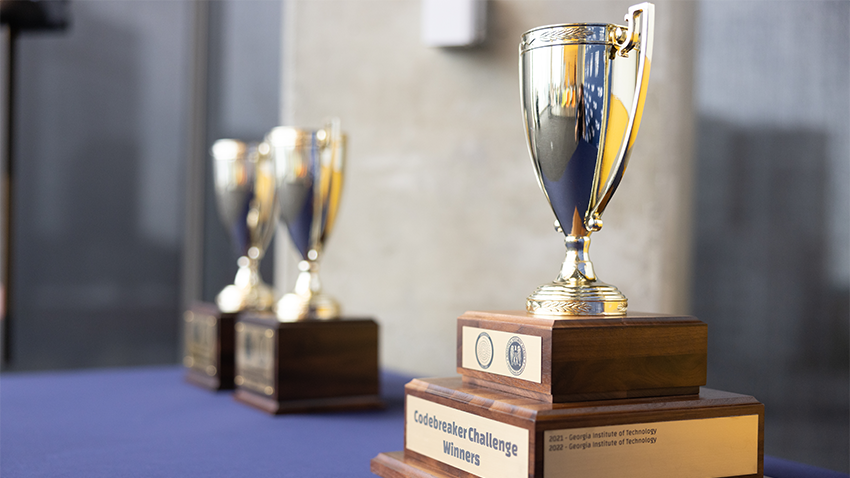 Georgia Tech Students Claim Cyber Crown Once Again
A crowd of students, faculty, and staff greeted officials from the National Security Agency (NSA) in the Coda Building Thursday afternoon to celebrate Georgia Tech winning the NSA Codebreaker Challenge (CBC) for the second year in a row. 
On top of the win, Georgia Tech had more students complete the challenge than any other college or university in 2022. Only 2% of the 4,734 participants completed the nationwide challenge that ran from August to December last year. 
"You should be very proud of your accomplishment," said David Hyde, NSA director of industry and academic engagement. "About 20% of our solvers were from Georgia Tech."
Image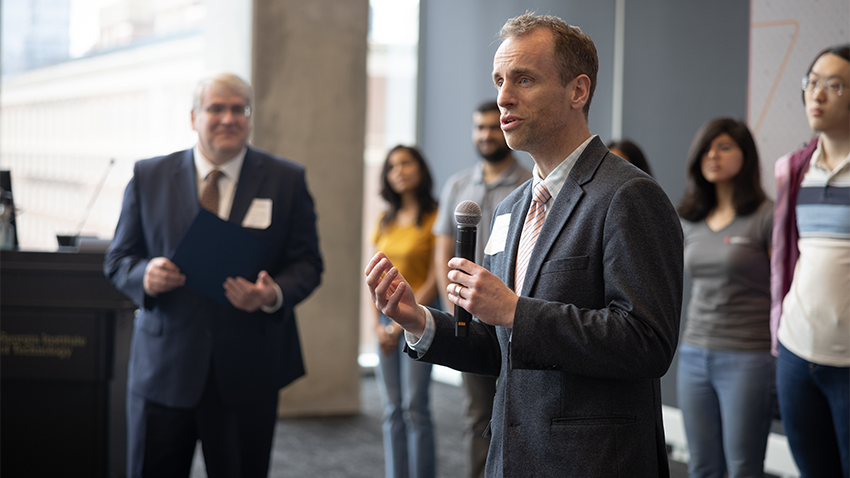 NSA Director of Industry and Academic Engagement David Hyde speaks to Georgia Tech students during the ceremony. (Photo by Kevin Beasley/College of Computing)
 
Hyde presented two trophies to students and Michael Bailey, founding chair of the School of Cybersecurity and Privacy (SCP), along with a letter to Georgia Tech's 12th president, Ángel Cabrera listing each of the Institute's 19 finishers by name and praising their accomplishment. 
"I am thrilled to be here celebrating the success of the students who completed the challenge," said Bailey. "Thank you to the NSA for creating this program and for coming all the way out here to celebrate." 
While CBC is extremely difficult by design, NSA engineers take special care to make it a learning experience. For example, during a Tech Talk prior to the awards ceremony students heard from Akil Booker, lead developer for CBC 2023, who walked the audience through the tasks of last year's challenge. 
Image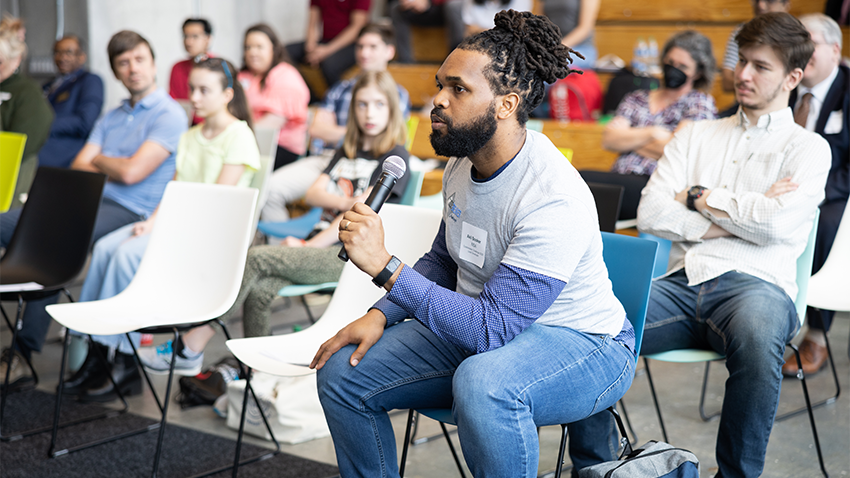 NSA Lead Developer Akil Booker asks a question to a student panel during the CBC Award Ceremony. Booker is creating this year's challenge which will go live in August. (Photo by Kevin Beasley/College of Computing)
"The codebreaker challenge is an annual outreach for the NSA," said Booker. "We try to follow a realistic storyline. We look at current events and see what would make a good story." 
For the 2022 competition, developers created a fictional scenario where students were assisting the FBI with a ransomware attack. Students needed to find the attacker's identity, determine what tools were used in the attack, investigate a website used by the hacker, and hack into the website to recover the victim's stolen files.  
Booker told the audience about the cybersecurity tactics participants had to master to successfully complete each step. These techniques included students reverse engineering a website, collecting digital forensic evidence left behind by the attacker, and exploiting weaknesses in the hacker's website. 
Image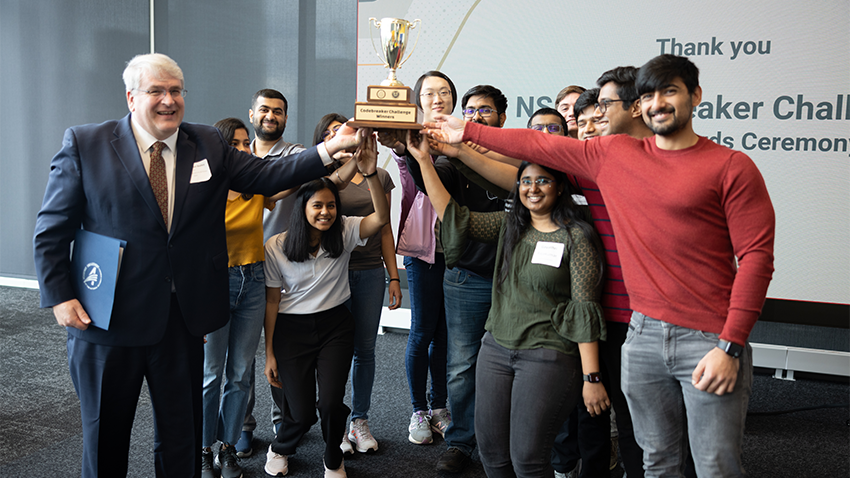 SCP Founding Chair Michael Bailey stands with over a dozen students who completed the 2022 NSA Codebreaker Challenge. (Photo by Kevin Beasley/College of Computing)
Sure, it seems daunting, but not impossible for Georgia Tech students in the cybersecurity master's program. Three of these students, Vaibhav Nagar, Gayathri Rajakumar, and Vipul Ujawane sat down with Daniel Chou, an undergraduate in the College of Computing, for a student panel about the codebreaker challenge where they offered tips for next year's participants. 
"Start early," said Ujawane. "If you are new to this, that is okay. Take your time and enjoy it."
The trio of graduate students told the audience that the courses offered by SCP Professors Wenke Lee, Taesoo Kim, and Associate Professor Brendan Saltaformaggio were a tremendous help in solving the challenge. Chou credited Georgia Tech's GreyHat cybersecurity club for sparking his interest in cybersecurity along with the security courses in his degree thread. 
Georgia Tech had 255 participants in the 2022 NSA Codebreaker Challenge and scored over 280,000 points, surpassing last year's winning total by roughly 50,000. The NSA will add Georgia Tech's name to the official CBC trophy and a first-place trophy was given to the Institute for display.
Image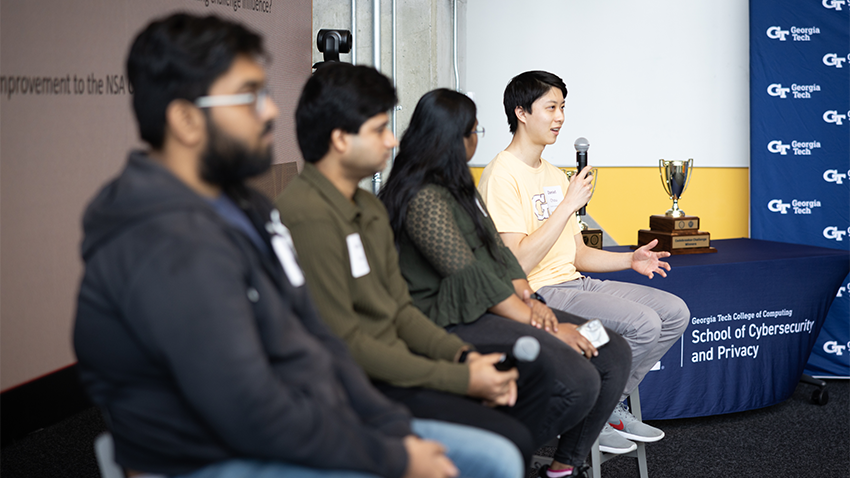 Georgia Tech students Vipul Ujawane, Vaibhav Nagar, Gayathri Rajakumar, and Daniel Chou share their advice for future CBC competitors. The four were a part of Georgia Tech's 19 finishers. (Photo by Kevin Beasley/College of Computing

)