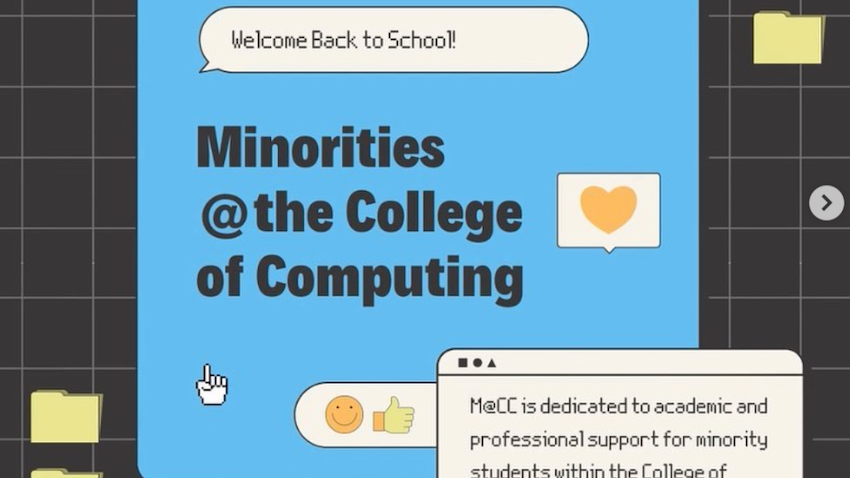 Groups Creating Opportunities for Underrepresented Students
Making connections is a big part of the Georgia Tech experience. For Black students and others from underrepresented communities, however, connecting with students with similar backgrounds isn't always easy.
Taking on the challenges presented by a lack of representation, College of Computing students have established organizations dedicated to serving these communities within the college.
These student organizations, according to College of Computing Director of the Office of Community and Student Enrichment Troy Peace, create pathways for underrepresented students "that promote culture, creating community and develop career opportunities. Additionally, they assist in creating personal and professional bonds that will last a lifetime."   
The first such group, Minorities at the College of Computing (M@CC), was established in 2004. Since it began, this student-led organization has grown from a handful of members to now providing programming and services for hundreds of students from across campus.
M@CC provides a supportive space for students to question, discuss, and share their experiences and opinions about the tech field. Beyond this, second-year computer science (CS) major and M@CC Co-president Assata Quinichett says the primary goal of M@CC is to connect students with prestigious companies and organizations that are looking to hire minority students.
"We maintain relationships with corporate partnerships, create career and academic development programming, and maintain student resources for career development," said Quinichett.
Along with facilitating club meetings and managing its website and social media, Quinichett and her M@CC co-president, third-year CS major Lawrence Williams, organize resume workshops, interview prep sessions, and engineering panels for students.
M@CC meets Wednesdays in the College of Computing Building, room 017. The group welcomes all Georgia Tech students. "It's a great place to meet other students, find mentors, and network. Anyone can support by attending and we are open to collaborating with other organizations," said Quinichett.
The college is also home to two student-led groups for women. Graduate Women at the College of Computing was founded in 2012, while Women at the College of Computing (W@CC) was founded in 2015.
Like M@CC, these groups are about creating a supportive space for their membership. "I'd say our mission is to help provide a space for women in computer science to form connections with their peers while networking with companies and developing professional skills," said second-year CS major and W@CC co-president Priya Rajeev.
She adds that anyone looking for a place to meet other women in CS is invited to attend the organization's weekly meetings. These are led by Rajeev and her co-president, third-year CS major Angela Young, and held Thursdays at 6:30 p.m. via the group's Slack channel.
W@CC is a transgender-affirming group and welcomes people of all identities. "We'd love to see support, not necessarily directly for our club, but rather in promoting our mission. For those who see themselves traditionally represented in classrooms, find ways to uplift marginalized voices and make sure that they are heard," said Rajeev.
The Grad W@CC group meets monthly and organizes workshops throughout the year.
"I'm excited to see the progression of these student organizations moving forward. The leaders of these organizations are doing a great job of connecting with students and promoting membership, upcoming programs, events, and opportunities," said Peace.