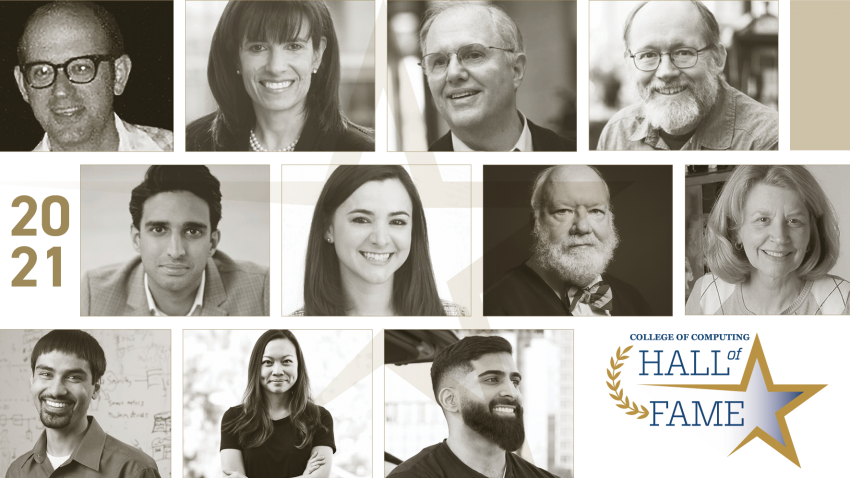 Hall of Fame Inductees Recognized for Impact on College Community
Although an in-person celebration couldn't be held this year, the college community nevertheless recently welcomed three new members into the College of Computing Hall of Fame and named two new alumni as Rising Stars.
"Each of our inductees has reshaped some aspect of the field of computing," said Charles Isbell, dean and John P. Imlay, Jr. chair. "They have also supported and shaped the College in profound ways. I am grateful to them and glad that we can honor them."
The members of the fourth class inducted into the College of Computing Hall of Fame are:
Eugene Spafford
Executive Director Emeritus of CERIA and Professor of Computer Science, Purdue University
Eugene H. Spafford has been a professor of computer sciences at Purdue University for 34 years and is the founder and executive director emeritus of (CERIAS). His research underlies many technologies used in modern cybersecurity. His current research interests are in information security, cybercrime, professional ethics, and security policy.
Among other recognitions, Spafford is a fellow of the American Academy of Arts and Sciences (AAA&S), the Association for the Advancement of Science (AAAS), the ACM, the IEEE, and the (ISC)2; a distinguished fellow of the ISSA; and a member of the Cyber Security Hall of Fame.
Mary Jean Harrold
Professor of Computer Science, College of Computing
Mary Jean Harrold (1947-2013) joined the College of Computing in 1999, and founded the Aristotle Research Group, focusing on automated tools for software developing, testing and maintenance. Her research on static analysis and software testing is considered foundational. She was a fellow of the ACM and the IEEE.
Harrold was a fierce advocate for women in computing. She served as director of the Georgia State hub of the National Center for Women in Technology, and as the college's NSF ADVANCE professor for a decade. She also served on the CRA's Committee on the State of Women in Computing Research. She helped found the Software Engineering Educational Symposium, which forges ties between software engineers and faculty at minority-serving universities.
Shwetak Patel
Professor of Computer Science & Engineering and Electrical Engineering, University of Washington; Entrepreneur and Philanthropist
Shwetak Patel is the Washington Research Foundation Endowed Professor in Electrical and Computer Engineering at the University of Washington, where he directs the Ubicomp Lab. He is also a director of health technologies at Google. His research is in the areas of human-computer interaction, ubiquitous computing, and sensor-enabled embedded systems, with a particular emphasis on the application of computing to health, sustainability, and interaction. He is a recipient of the MacArthur "Genius" Fellowship, the NSF Career Award, and the ACM Prize in Computing. He is also an ACM fellow. Shwetak was a co-founder of a home energy monitoring company called Zensi (acquired by Belkin in 2010), a low-power home wireless sensing company called SNUPI Technologies (acquired by Sears in 2015), and a mobile health company called Senosis Health (acquired by Google in 2017).
The Rising Stars inducted into the College of Computing Hall of Fame are:
Kathy Pham
Fellow, Harvard University; Fellow, Responsible Computer Science at Mozilla; Founding Member, U.S. Digital Service
Kathy Pham is a computer scientist, product leader, and founder. Her past work has spanned Google, IBM, Harris Healthcare, and the United States Digital Service, where she was a founding product and engineering member. She has founded Women in Product Boston, the Cancer Sidekick Foundation, Team Curious, and Unite for Sight southeast. Kathy is the Co-Lead of the Responsible Computer Science Challenge and founder of the Mozilla Builders Incubator at Mozilla. She also co-founded the Ethical Tech Working Group at Harvard and focuses on ethics and social responsibility with an emphasis on engineering culture, artificial intelligence, and computer science curricula. Pham is a Shorenstein Fellow and Adjunct Faculty at the Harvard Kennedy School, where she teaches Product Management and Society.
Renji Bijoy
Founder, CEO and CTO, Immersed
Renji Bijoy is part of the Forbes 30 Under 30 class this year and is the founder and CEO of Immersed. Immersed is a startup that has raised $12 million and is partnered with Facebook, HTC, and Microsoft to build VR offices. Renji has a master's degree from Georgia Tech in computational perception and robotics. In 2017, Renji was in the 0.01% of startups to be accepted in the highly coveted Techstars Accelerator Program for his startup focused on remote collaboration and solo productivity in VR. These days, Bijoy is leading his team of the world's best developers and designers to build the very near future of work. Immersed broke a record for the world's fastest crowd-funding campaign, raising $8.1 million in 17 days.
The pandemic also kept the college community from celebrating the Hall of Fame's Class Two, which were named in 2020.
Class Two
William "gus" Baird
William "gus" Baird received his M.S. from the School of Information and Computer Sciences (later to be the College of Computing) in 1980. He returned to to teach, and spent 15 years as the College's most beloved undergraduate instructor. The spelling of his name is not a typo; he had no pretense whatsoever and never capitalized his name. The College's annual faculty teaching award is named in his honor.
Craig Mundie
President, Mundie & Associates, Chief Research and Strategy Officer, Microsoft (retired)
Craig J. Mundie (B.S. EE 1971, M.S. 1972) is President of Mundie & Associates. He joined Microsoft in 1992 and retired in 2014 as Chief Research and Strategy Officer (since 2007) and the Principal Technology-Policy Executive (since 1998). Previously he was the CEO and co-founder of Alliant Computer Systems. He was co-executive chair of Bridgewater Associates (2015-16). He is a Director of the Institute for Systems Biology. He advises Microsoft, Exicure, Ironnet Cybersecurity, SomaLogic, OpenAI and the Cleveland Clinic. Craig Mundie served presidents Clinton, Bush and Obama on the National Security Telecommunications Advisory Committee and was on Obama's President's Council of Advisors on Science and Technology.
Phyllis Schneck
Vice President, Chief Information Security Officer, Northrup Grumman Enterprise Services
Phyllis Schneck (Ph.D. 1999) is vice president and chief information security officer (CISO) for Northrop Grumman. In this role, she oversees the company's global cybersecurity strategy and policies.
Schneck has 20 years of government and private-sector experience in senior cybersecurity positions. She has also served as the deputy undersecretary for cybersecurity and communications for the Department of Homeland Security, and as chief technology officer for the global public sector at McAfee.
Schneck has been a member of the Center for Strategic and International Studies Commission on Cybersecurity. She was chair of the board of directors of the National Cyber-Forensics and Training Alliance, vice chair of the National Institute of Standards and Technology's advisory board on information security and privacy, and she served for eight years as national chair of the board of directors of the FBI's public-private InfraGard program. Schneck holds several information-security and technology patents. 
Wayne Wooten
Senior Rendering Software Engineer, Adobe, Inc.
Wayne Wooten (Ph.D. 1998) is a Senior Rendering Software Engineer at Adobe where he is developing a new interactive, physically-based renderer. Prior to that, Wayne worked at Pixar Animation Studios in the RenderMan Products Group. During his 23 year career at Pixar he worked on many projects; from lighting technical director on "A Bug's Life", to architect of the Render Farm control software for "Toy Story 2" and "Monster's Inc".  Wayne then moved to developing jellyfish translucency effects for "Finding Nemo" and more efficient ways to render long, black hair for characters in "The Incredibles". Wayne has principally developed software for ray tracing algorithms, shading languages, textures, and the low-level system architecture for the RenderMan renderer and has been credited on every movie Pixar has produced from "A Bug's Life" to "Soul".
Class Two Rising Stars
Kabir Barday
Founder, President, and CEO of OneTrust
Kabir Barday (B.S. 2009) is the founder, president and CEO of OneTrust. Five years in, OneTrust was named the fastest-growing company on the Inc. 500 list, and has built a category-defining enterprise technology platform to operationalize trust. According to TCV, OneTrust is the fastest-growing enterprise software company in history. OneTrust has largely pioneered the trust technology market, has been awarded 150 patents and has acquired seven other companies along the way.
Vanessa Larco
Partner, New Enterprise Associates
Vanessa Larco (B.S. '08) is a Partner at NEA focused on enterprise and consumer tech investing. Prior to joining NEA, she led Product Management teams at Box, working on the next generation of productivity apps across web and mobile. Her passion for design and analytics stems from her experience in gaming, which includes leading the Speech Recognition Experience team at Xbox Kinect, building a top-grossing studio at Disney Social followed by founding a kids gaming startup. She's led investments in Cleo, Rocket.Chat, Mejuri, EvidentID, Greenlight Card, Feather, and Lily AI. She is also a board observer at Robinhood, Willow Pump, and OmniSci.
The College of Computing plans to hold an event to honor these inductees, and those from last year's class, in spring 2022.