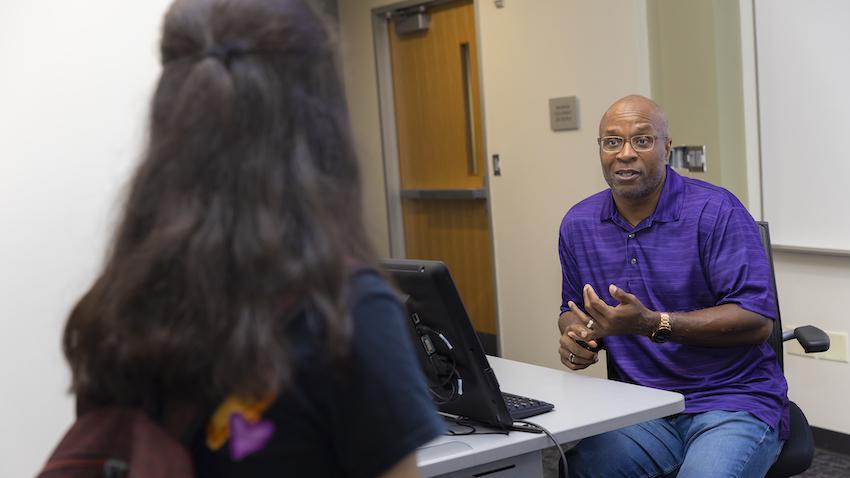 Inaugural Dean for Inclusive Excellence Has 'Expansive Vision of What Inclusivity, Equity Can Mean'
The College of Computing at the Georgia Institute of Technology has chosen Cedric Stallworth as its inaugural Associate Dean for Inclusive Excellence.
Stallworth has administered educational programs at Georgia Tech for more than two decades, most recently as the Assistant Dean for Outreach, Enrollment and Community. In his new role, Stallworth will have overall responsibility for developing and advancing diversity and equity initiatives within the College.
"I view my new position as an opportunity to contribute to the legacy and culture of innovation that has become synonymous with the College of Computing," said Stallworth, a double Georgia Tech alumnus (EE 90, MS CS 99) and former Georgia Tech football player.
"I want to create cultural momentum in the diversity-inclusion-equity- and belonging space. I want to facilitate conversations that will define our goals, plan our path, measure our progress, and then share our journey with the world."
The College already has multiple programs designed to increase the number of students from underrepresented groups participating in computing. These initiatives include:
The Computing Equity Project teaches AP computer science in the Atlanta Public Schools
DataWorks employs and trains adults from underrepresented groups as data wranglers
Summer camps that now stretch from Atlanta to locations across the state, and even to the Virgin Islands
As part of his new responsibilities, Stallworth will lead Georgia Tech's Constellations Center of Equity in Computing, which is housed in the College of Computing.
"Cedric has decades of experience, and an expansive vision of what inclusivity and equity can mean for the College," said Charles Isbell, dean and John P. Imlay chair of the College of Computing. "I expect him to make a difference, and I look forward to seeing it happen."