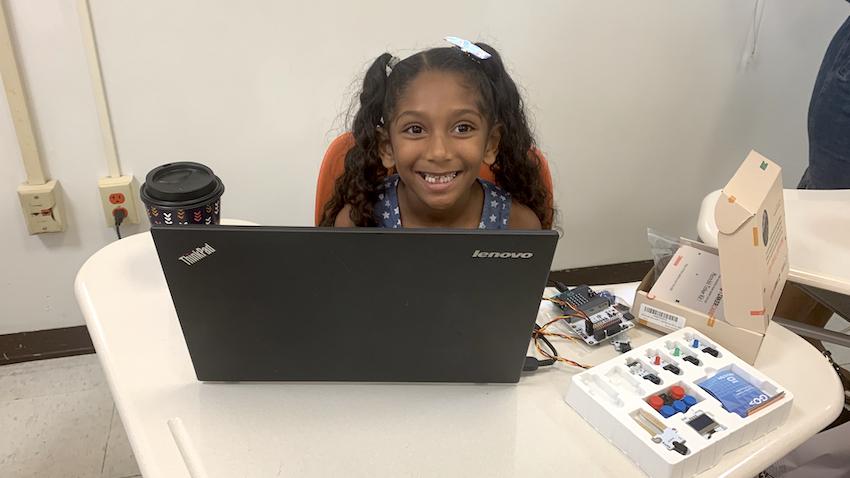 Students in the US Virgin Islands Participating in Computing Summer Camps
Students in the U.S. Virgin Islands are learning about robotics, video game design, and more this summer as part of an annual computing camp program hosted by the Georgia Tech College of Computing.
The summer camp program has been held on campus for 10 years. This is the first time the College has offered the program outside the continental U.S.
Through a budding partnership with the University of the Virgin Islands, the College is bringing a series of computing camps to students in Saint Thomas and Saint Croix in the U.S. Virgin Islands. Students enrolled in the program are participating in sessions led by live remote facilitators at Georgia Tech.
Each of the week-long day camps has a different computing-related focus. These include:
Ear sketch – Students learn to make their own beats and learn the role computers play in music production

Pixel box – Students learn to program a light field to create pictures of their choosing

2D & 3D Printing – Students learn to design and print t-shirts or tote bags. They also learn to 3D-print luggage tags, puzzle, and more

Video game design – Students learn to build a basic game like pong or space invaders

Robotics – Students learn to program robots to either follow a line or sense distance
The new live-instruction/remote-participation model allows one teacher to reach students in multiple locations. Onsite teaching assistants support the students, which helps to maximize the program's impact.
The summer camp program, which is managed by the College's Constellations Center for Equity in Computing, shifted to live online instruction during the pandemic.
"We didn't want to lose the momentum we had gained over the previous decade. More importantly, we didn't want to miss an opportunity to expose more students to the creative side of computing," said Cedric Stalworth, Constellations program director.
To meet this challenge, the Constellation team began developing a remote model for the summer camp program in 2021.
"Our reach has expanded with new partnerships with a school district in Jefferson, Georgia and a community space — Mt. Zion Church — in Albany, Georgia. Our new model of using a live virtual instructor and having students meet in a location of their choice is working really well," said Yolanda Payne, a Constellations fellow.
The new approach worked so well in Jefferson and Albany that the Constellations team recognized they could reach students regardless of their location.
The Constellations outreach team travelled to the USVI earlier this month to set up the camps. This included training the teaching assistants and delivering all the required materials.