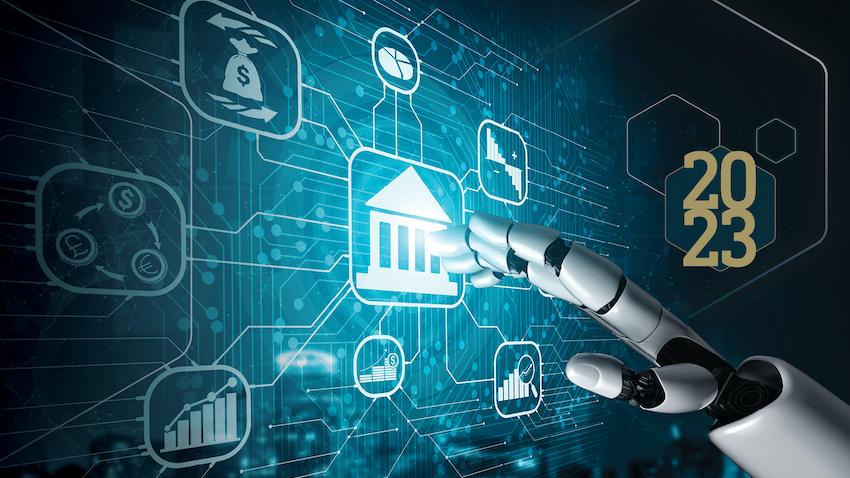 Manufacturing, Finance Among Industries to Benefit from What's Next in AI for 2023
Artificial intelligence is already making headlines in the new year with the box office success of the movie M3GAN. Along with a TikTok dance craze and lots of laughs, the over-the-top horror movie/dark comedy about an AI-powered robot that runs amok is also inspiring discussion about the growing presence and impact of artificial intelligence.
 From the movie house to the warehouse to your house, AI seems like it's everywhere. That's because with a steady stream of new research and innovative applications reaching into nearly every industry and business sector, it is everywhere. Nevertheless, AI still holds enormous potential as the field continues to evolve.
To get a sense of what this evolution could look like in 2023, we turned to a small group of Ph.D. students from the College of Computing community that are currently pushing foundational and applied AI research forward in a broad spectrum of disciplines and fields.
The students shared their opinions on where AI might be headed in the new year, what some of the big tech stories could be, and why ethics in AI are so critically important.
Where will artificial intelligence and machine learning have the most impact in 2023?
"Artificial intelligence and machine learning will continue to have a huge impact on manufacturing and warehouses with labor shortages and worker turnover continuing to be a concern as more manufacturing and operations jobs are brought back to the United States from overseas. Additionally, AI/ML will continue to help ensure that manufacturing and warehouse facilities are operating as efficiently as possible from energy and material savings to worker safety and parts quality." – Zoe Klesmith Alexander, computational science and engineering Ph.D. student
"Right now, deep learning is on a trajectory to transform the creation space. Artwork and images, videos, data representation and storytelling, co-authoring, and summarizing documents... It's gotten really good." – Ben Hoover, machine learning Ph.D. student
"I think machine learning and AI will keep playing a huge role in how the world and society will be shaped over the next decade in many ways. It will make many other fields more efficient through ML and AI tools we are developing. In 2023, I think ML and AI will have the most impact on social media platforms, helping reduce hate speech, rumor spread, etc." – Agam A. Shah, machine learning Ph.D. student
"One of the big impacts this year may be driverless cars being in your neighborhood. Otherwise, it will be a slow steady drip of GPT3 and other OpenAI models suffusing all applications, making programmers much faster, making journalists faster, making academic articles and lit reviews much faster. We're at a 4th grader level, and I hope by the end of this year we'll be at the 6th grader level. Also, indoor turn-by-turn navigation will be everywhere in 2023 as well." – Brandon Biggs, human-centered computing Ph.D. student
What will be some of the big tech stories in 2023?
"ChatGPT and the GitHub Copilot lawsuit will keep making it into the news and cause more controversies. In general, AI ethics will become more important and get more focus as the technology keeps advancing." – Fabian Fleischer, cybersecurity, and privacy Ph.D. student
"Driverless car fleets will be coming to a city near you. A new battery technology will allow phones to keep their charge for a week. Meta realizes virtual reality (VR) head-mounted displays are for a limited market and uses headphones and phones to provide VR experiences." – Brandon Biggs
What's an issue or industry that you think could benefit from a computing solution?
"Our reinterpretation of modern deep learning as energy-based associative memories has the potential to transform any industry that relies on foundation models -- giant architectures that require models that are "self-supervised" (learn on their own from data)." – Ben Hoover
"Inclusion in everything. Over 90 percent of websites on the internet have elements that are inaccessible to 25 percent of the world's population who have disabilities. Inclusive design will be the most important area where technology can be redesigned and created to have multiple sensory modalities and be properly programmed." – Brandon Biggs
"Currently, financial markets are far from efficient because they do not fully incorporate information available in large unstructured text data. With the latest development in natural language processing techniques, we can better understand the economy and therefore price financial markets better." – Agam A. Shah
There's been increasing recognition of the vital role ethics should play in artificial intelligence. How do you see this issue evolving in the next year?
"Specifically in my research, I think explainable AI (XAI) is very important, especially if non-experts in ML will be using black-box ML solutions in a factory. It will be important for humans to trust and to understand the models especially if the models are being using to monitor quality on a safety-critical part.
"Additionally, using XAI for human interaction with robots that utilize deep learning to make decisions will be increasingly important as technologies like collaborative robots (cobots) are integrated into factories. I think in my area of research that it is always important to use automation to aid humans in jobs that are safe for humans to do and not to replace them." – Zoe Klesmith Alexander
"Big data is pretty much at its peak. Deep data, where your Alexa knows everything about you, or your phone knows everything about you, and rather than saying 'other people who watched this show liked this show,' it's going to say, 'I know you liked these shows, I think you'll like this show because of these reasons, one of which is because other people who liked all these other shows liked this show.' The ethical element will be how much of this data should these models use, and are people going to build a personal dataset that they can share with other apps, or is each app going to need to build their own dataset? The ethical question is who owns this data." – Brandon Biggs
"I think ethics will become more and more important going forward. We are making huge breakthroughs in machine learning and artificial intelligence, but the systems we are creating are producing racist, sexist, and stereotypical results. For example, a recent system, Galactica, developed by Facebook (Meta) is powerful. It can produce research articles by just simply providing it with the title. It comes with some serious ethical concerns, in some cases, it produces racist, sexist text. So, as we will keep developing better models and making success in parallel, we need to always keep in mind the ethical implications of these models." – Agam A. Shah
What research are you working on that you think people should know about or will have impact in 2023?
"Part of my research focuses on data-driven modeling of additive manufacturing processes to better control dimensional quality of the final part. Another part of my research focuses on detecting anomalies in real-time using computer vision and machine learning for both warehouses and manufacturing processes." – Zoe Klesmith Alexander
"Right now, deep learning is built on feed-forward mathematical operations that have little resemblance to the brain. I am working on a physics inspired approach to deep learning built around recurrent networks and energy functions. These architectures have the same mathematical foundation as the famous, biologically plausible Hopfield Network." – Ben Hoover
"I am currently working on two projects which, in my opinion, will have an impact in 2023. In one project, we are measuring the exposure of public firms to ongoing inflation. We are also understanding how inflation affects different firms differently based on the pricing power of the firm. As inflation is the highest in the last 40 years, our study is highly relevant now and in the coming years till we get inflation back in control.
"The second work is related to the first work in some ways. As inflation is rising, to control the inflation Federal Reserve Bank is tightening its monetary policy. In our second work, we are measuring the stance of monetary policy (measuring hawkish vs dovish stance) of the Fed using state-of-the-art NLP models to see its impact in various financial markets (Treasury market, Stock market, Crypto market, etc.)" – Agam A. Shah