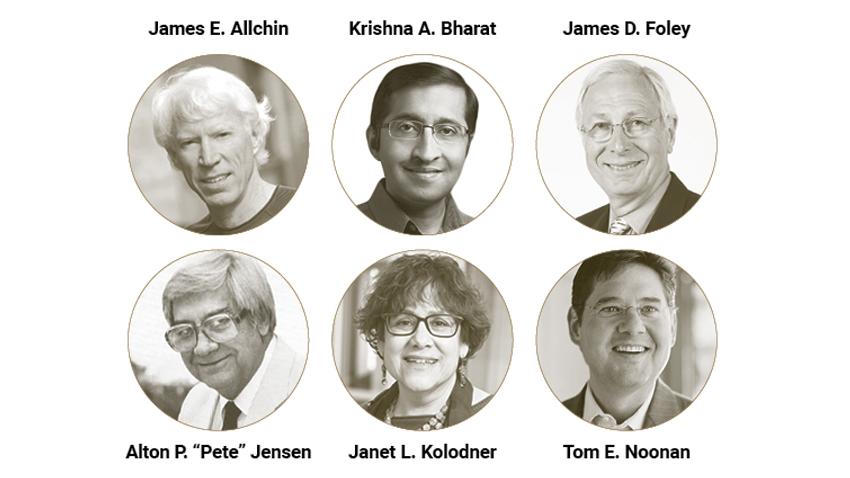 New Hall of Fame Inductees 'Cast Long Shadows' on Computing
UPDATED May 10, 2019: The Georgia Tech College of Computing recently honored its 2019 Hall of Fame inductees.
Six luminaries from the GT Computing community were welcomed into the College of Computing Hall of Fame during an induction ceremony and reception held at a local event venue in downtown Atlanta.
"Each of these highly accomplished and well-respected members of our community has cast a long shadow across computing and done much to support the growth and success of the College. It is an honor to welcome them into the College's Hall of Fame," said Zvi Galil, the John P. Imlay Jr. Dean of Computing.
More than 125 guests – including current and former College of Computing Advisory Board members, alumni, faculty, students, and other friends of the college – attended the RSVP-only event.
[PHOTO GALLERY: GT Computing Hall of Fame Induction Ceremony – Spring 2019]
2019 inductees into the College of Computing Hall of Fame are:
James E. Allchin – Computer scientist, philanthropist, blues rock guitarist
Krishna A. Bharat – Research scientist and Google News creator
James D. Foley – Professor Emeritus, former holder of the Stephen Fleming Chair in Telecommunications
Alton P. "Pete" Jensen – computer science professor
Janet L. Kolodner – School of Interactive Computing Regents' Professor Emeritus, cognitive and learning scientist
Tom E. Noonan – Engineer, venture capitalist, and philanthropist
With the new additions, the GT Computing Hall of Fame now has 10 members. The six 2019 inductees join the four members of Class Zero, inducted into the Hall of Fame during an inaugural event in 2018.
Along with the Hall of Fame members, the ceremony also recognized Galil for his lasting contributions to the GT Computing community. Part of this recognition included the unveiling of Galil's portrait, which now hangs alongside portraits of the College's former deans Peter Freeman, founding dean, professor emeritus, and Hall of Fame Class Zero member; and Professor and Charlotte B. and Roger C. Warren Chair of Computing Rich DeMillo.