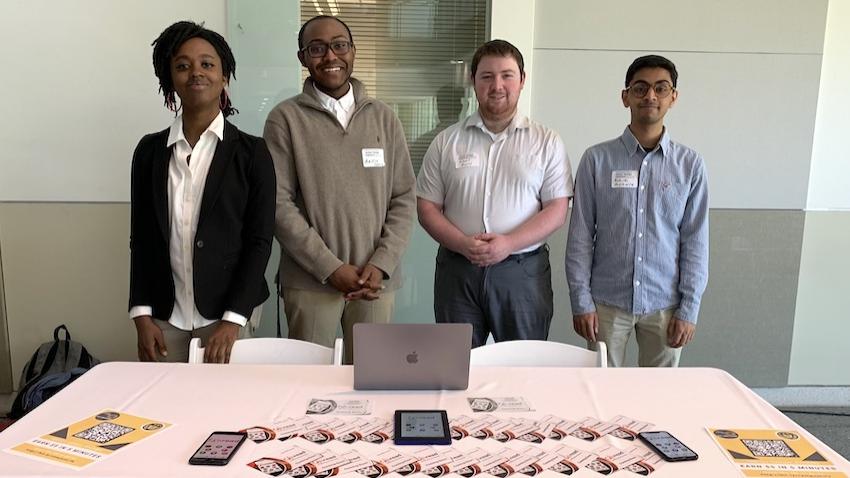 Students Working with Real-World Clients to Create Software-based Solutions
Computer science (CS) students at Georgia Tech are using technology to help feed displaced refugees in Cameroon. They are also assisting Atlanta-area single parents in connecting with local family resources.
These are just two of the 35 software design projects that are being developed for actual clients and debuting this month at the Fall 2021 CS Junior Design Capstone (CS JDC) Expo.
The expo is a bi-annual showcase of projects completed by third- and fourth-year CS and Computational Media (CM) students as part of the two-semester CS JDC course in the College of Computing.
The expo, which began in 2017, is set for today and Monday in the Klaus Advanced Computing Building Atrium.
Along with building their software skills, students in the course also develop technical communication skills by interacting with actual clients from area corporate and nonprofit organizations. They work with clients to create software-based solutions to real issues impacting an organization and its customers. These solutions, which are produced to a minimally viable product level, often include web and mobile apps, websites, and scheduling tools.
"We're really looking for software development projects that require a front end (user interface) and a back end (software, app, server). Because the projects are so different, the work products can be very different as well," said Amanda Girard, course coordinator for the CS JDC program. "However, the students are learning a process; they are learning what steps are consistently required when working with industry to get something done."
During the first semester of the course, students learn about the user design process and focus more on technical communication. Part of this includes conducting user research and incorporating the findings into the tool or platform the teams are developing.
In the case of Amba Farmers Voice, students are creating a mobile app to ensure farmers and refugees in southern Cameroon have access to agricultural education resources to help increase food production.  Similarly, students working for Atlanta-based nonprofit It Takes a Village are harnessing the power of mobile technology to help single parents find childcare, tutors, local food producers, and more in Atlanta's West End community.   
"In the first semester, the deliverables are based on what's expected in industry – vision statements, user stories, user mapping, and recommendation reports. And rather than a textbook, we use a popular user design manual from industry," said Girard, who is an instructor in the College of Computing's Division of Computing Instruction (DCI).
The second semester of the CS JDC program is more CS-heavy, says Girard, and segmented into five three-week long "coding sprints." During this time, the student teams send demo videos along with technical and recommendation reports to their clients. This back-and-forth helps the students learn how to get client feedback and how to talk to clients in a way that they understand. 
"One team said, 'Oh, our client is asking about using machine learning. That can be difficult. Do they even know what they're asking for?' I said, 'Exactly, they're the client and you're the expert. You need to not only understand what a client wants, but often you also need to help a client better understand what it is they are asking for,'" said Girard.
The focus on industry engagement and real-world experience stems from a survey of the College's alumni from nearly a decade ago. The survey revealed that at that time, many alumni felt unprepared for the technical communication aspects of their jobs following graduation.
"They reported that they didn't fully realize how much client communication would be needed in the real world and just how much report and documentation writing was involved on a regular basis when working in industry," said Girard.
To meet this need, DCI Instructor Bob Waters, now retired, worked with Georgia Tech's Writing and Communications program to retool and expand the existing one-semester capstone course.
Launched nearly nine years ago, the updated two-semester CS Junior Design Capstone course was co-taught by DCI instructors and Marion L. Brittain Fellows. It paired a 3000-level technical communication course tailored for CS majors with existing client-based/student-proposed projects.
The expanded course has been a success according to Girard, who started co-teaching the course as a Brittain Fellow. The first cohort had just 50 students. Today, nearly 600 CS and CM students are enrolled in 10 sections of the CS JDC course, which currently serves about 100 external clients.
Girard became the first permanent CS JDC program coordinator when the College added the position in 2018. Prior to joining the DCI team and working as a Brittain Fellow, Girard earned her Ph.D. in Rhetoric, Theory, and Culture from Michigan Technological University.
*Photo used above is from a CS Junior Design Capstone Expo held in 2019.