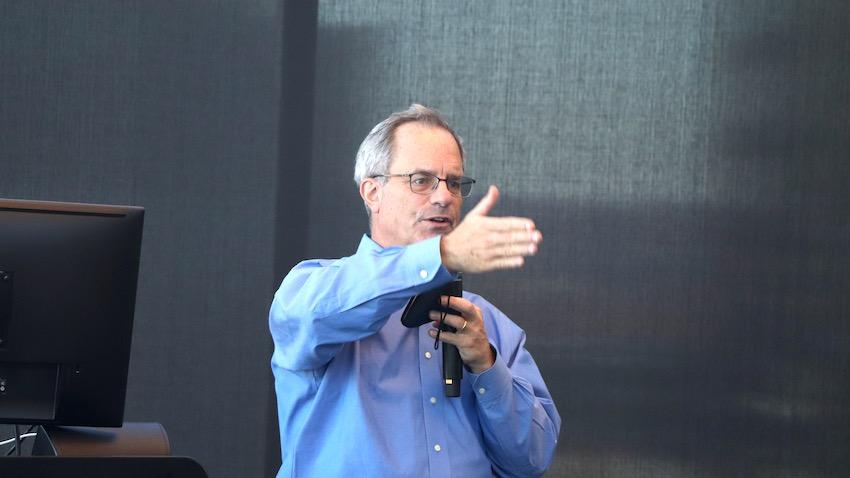 Swire to Continue Defining the Field of Cybersecurity as J.Z. Liang Chair
The College of Computing at the Georgia Institute of Technology is pleased to announce that Peter Swire has been named the J.Z. Liang Chair in the School of Cybersecurity and Privacy (SCP). Swire previously held the Elizabeth and Tommy Holder Chair of Law and Ethics in the Scheller College of Business.
"I am honored by this announcement," Swire said. "Throughout my career in privacy and cybersecurity, I have worked at the intersection of computing, law, and public policy. With this Chair, I look forward to supporting the inter-disciplinary vision of the School of Cybersecurity and Privacy."
Prior to joining Georgia Tech in 2013, Swire was a professor of law at the Ohio State University, George Washington University, and the University of Virginia. Under President Clinton, he served as Chief Counselor for Privacy in the U.S. Office of Management and Budget, the first person to have U.S. government-wide responsibility for privacy policy. After the Snowden revelations, he served as one of five members of President Obama's Review Group on Intelligence and Communications Technology, which recommended changes to U.S. surveillance laws that have since been adopted into U.S. legislation.
While trained as a lawyer Swire has long worked on computing topics. He served for two terms on the Forum on Cyber-Resiliency of the National Academies of Science, Engineering, and Medicine, and this year completed work as a co-author of NASEM's new report on "Cryptography and the Intelligence Community: The Future of Encryption."
In 2012, Swire was named global co-chair of the Do Not Track standards process, of the World Wide Web Consortium. His earlier work included serving in 1999 as Chair of the White House Working Group on Encryption, which resulted in policy changes to permit the export of strong encryption from the United States.
"As Computing expands into more and more fields, we need scholars like Peter who can cross the bridge between technical and legal problems," said Charles Isbell, dean and John P. Imlay, Jr. chair of computing. "We are very pleased to have him as part of the School of Security and Privacy, and for him to hold the J.Z. Liang Chair. He is helping us define the future of cybersecurity as a field."
"James" Jian Zhang Liang (ICS '90, MS ICS '91) was the co-founder and CEO of trip.com, a provider of travel services. He currently teaches as an Applied Professor of Applied Economics at Peking University's Guanghua School of Management. 
SCP is Georgia Tech's home for research and education in cybersecurity and privacy. SCP draws skilled cybersecurity professionals from technology, policy, business, and practical fields to meet a rising national and international demand. Housed within the nationally ranked College of Computing, this new school builds on Georgia Tech's 20-year investment to further develop the research and education of cybersecurity and privacy.
"We are incredibly proud of Peter and are very excited to see his work recognized in this way," said Michael Bailey, inaugural chair of the School of Cybersecurity and Privacy. "At SCP we believe everyone should share in the economic prosperity and social progress enabled by technology. Ensuring the Cybersecurity and Privacy of these systems in society is a grand challenge that requires fundamentally new approaches. Peter's long history of innovative work at the intersection of law and technology is a great example of SCP faculty rising to meet this grand challenge."