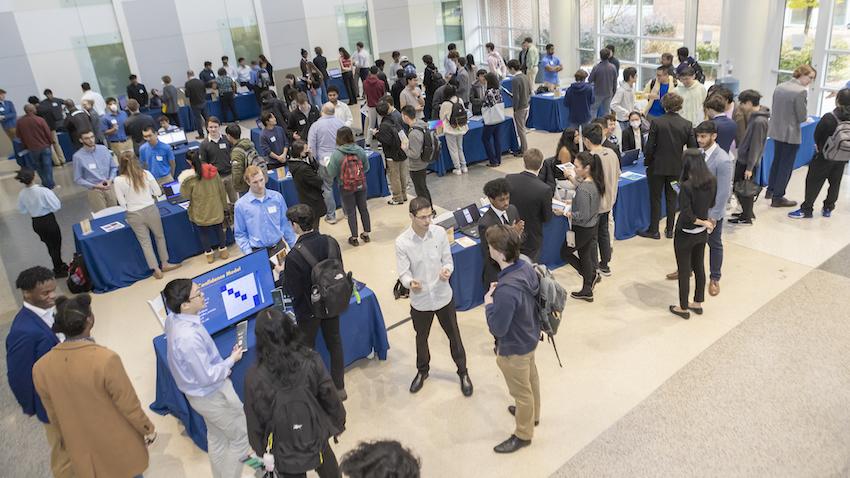 Team Earns Top CS Capstone Honors for Its Update of a Suicide Prevention App
Each semester, student teams put their software design skills to the test vying for top honors in the Computer Science Junior Design Capstone (CS JDC) Expo. This semester is no exception.
More than 30 teams presented projects during the live expo held on Dec. 5 in the Klaus Advanced Computing Building. The teams were made up of of third- and fourth-year CS and computational media (CM) student.
The top three teams in the Fall 2022 CS JDC Expo are:
1st Place: ReliefLink – The ReliefLink project is a reboot of an award-winning suicide prevention app. The team is adding features, giving the app a modern design, and adding iOS support. The team members were 

Alexandr Shor, Daniel Young, Yuting Shen, Eduardo Emilio Costa Trunci, Rithvik Rajavelu, and Suvan Adhikari.

2nd Place: eKlozet – The eKlozet mobile app curates personalized outfit recommendations for users based on an initial fashion preference screening quiz. Users manage their closet virtually and select outfits days in advance with linked calendar and weather capabilities. The team members were 

Sreya Atmuri, Shonjoy Bhattacharyya, Allison Fain, Mija Kennedy, Olivia Mauger, and Nelson Rodriguez.

3rd Place: ChickSafe – ChickSafe is an application that provides helpful visual data and reports to farmers regarding the development and acclimation of their broiler chickens shortly after they arrive at the broiler houses.The team members were 

Meena Ajith, Chris Antley, Ethan Boone, Manivannan Nilesh, Sahil Sudhir, and Akash Veerappan. 
The expo is the culmination of a two-semester course in the School of Computing Instruction (SCI) that connects students with public and private sector clients to create software design solutions for real-world challenges.
Image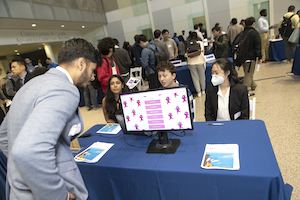 Along with building software design skills, students in the course develop technical communication skills by interacting with actual clients from area corporate and nonprofit organizations. They work with clients to create software-based solutions to real issues impacting an organization and its customers.
These solutions, which are produced to a minimally viable product level, often include web and mobile apps, websites, and scheduling tools.