'Welcome to Being a Cheesehead!' Community Reacts to Dean's Departure
Following the announcement this week that Dean Charles Isbell is leaving Georgia Tech, people from across campus and across the country have been sharing their thoughts and well-wishes.
Below are just a few examples of how people are responding to the news that Dean Isbell has accepted the position of provost at the University of Wisconsin-Madison (UWM).
"Not going to lie. This one hurts. Outside of being an outstanding person and leader, Dean Isbell has been an absolutely incredible advocate for our admission and enrollment efforts-- as well as our goals of expanding access and amplifying Tech's impact locally and globally." – Rick Clark, assistant vice provost and executive director of Undergraduate Admission, via Twitter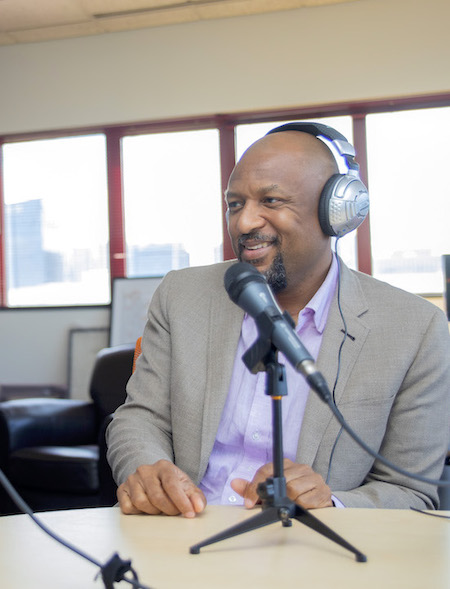 "Congrats, Professor Isbell! Is there going to be a farewell music video from Smoov and Curly?" – Kevin Shih (CS MS 22) via LinkedIn
"@isbellHFh is coming to the right place. Grilled cheese in America's Dairyland is a thing of beauty. Charles Isbell, welcome to being a cheesehead!" – Tom Erickson, founding director of the School of Computer, Data & Information Sciences at UWM, via Twitter
"To me, Charles IS Georgia Tech. He taught my CS1100, which is a surprisingly big reason why I'm still here. Georgia Tech without Charles Isbell is like the Justice League without Superman, or the Avengers without Captain America. I'm sure he can tell me why that's a bad analogy." – David Joyner, executive director of Online Education & OMSCS, via Twitter
"Congratulations Dean Isbell!" – Susan Fong, GT Computing alumna, via Facebook
"Congratulations @UWMadison on your great new Provost. I will miss @gtalumni +@gtcomputing Dean @isbellHFh dearly but I'm delighted to see his impact grow and can't wait to see him continue to shape higher ed at one of our leading research universities." – Georgia Tech President Ángel Cabrera via Twitter
"Congrats, Professor Isbell!" – Mahrukh Zohaib Khan (CS MS 22) via LinkedIn
"I am delighted to welcome Charles Lee Isbell Jr., Dean of @GeorgiaTech as the next @UWMadison provost! He is an exceptional and imaginative scholar and administrator, and I'm very much looking forward to working with him." – UWM Chancellor Jennifer Mnookin, via Twitter
"So proud of my friend Charles Isbell @isbellHFh, who will be U. Wisconsin's next provost, starting this Fall. For those not steeped in academic terminology, that's basically the school's CEO (one step below president)." – Michael Littman, Brown University computer science professor, via Twitter
"Wow, big change for College of Computing at Georgia Tech & 'Smoov' Dr. Isbell. Both have been excellent and positively impactful to many. Best on the future and 'Give 'Em Hell'!" – John Clem (MS CS 16) via LinkedIn