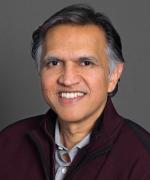 Biography
Amir Hudda is a technology entrepreneur who has founded and grown four startups in the past 20 years. During that period, Amir has raised over $100M in equity (public and private markets) and debt transactions; acquired, scaled, restructured and sold several businesses, and invested in and mentored young entrepreneurs and companies.
Amir's passion has been to create and bring new technologies and products to market – from the gold standard in sensors to capture and analyze customer activity for the global retail sector to the industry's most advanced security solutions for use by the DoD, his technology depth and business skills have helped launch innovative solutions that address critical business problems.
Currently, Amir is the CEO of Qu, an enterprise-scale POS company focused on the fast-casual and quick-service restaurant industry. Prior to Qu, Amir was the CEO of Nomi, a company he had originally founded in 2000 as Brickstream, the leader in sensors and customer analytics for large retailers. Amir has also been the CEO of Apptix, a leader in cloud-based email, collaboration and voice solutions and the Founder & CEO of Entevo Corporation, an enterprise security pioneer for the Microsoft platform.
Amir has an M.S. in Computer Science from Georgia Tech and a B.E. in Computer Engineering from PICT, University of Pune, India.