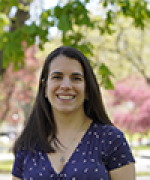 Assistant Professor in SCP, Joint with the School of Computer Science
Research Areas: Internet Measurements, Network Security, and Internet Policy
Biography
Cecilia Testart is an Assistant Professor in the School of Cybersecurity and Privacy and the School of Computer Science at GeorgiaTech. 
Her research focuses on how internet protocols work and evolve, how the different actors in the ecosystem behave and interact, and how the outcome aligns with societal expectations such as security and privacy. Her doctoral research focused on securing the Internet's core protocols, leveraging empirical data-driven approaches, and considering both technical and policy challenges to improve the current state-of-the-art. Her work on persistent misbehavior in Internet routing received a Distinguished paper award at the ACM Internet Measurement Conference in 2019. 
Cecilia holds a Ph.D. in Computer Science and master in Technology and Policy from MIT. She also holds Engineering Degrees from Universidad de Chile and Ecole Centrale Paris. Prior to joining MIT, she helped set up the Chilean office of Inria (the French National Institute for Research in Digital Science and Technology) and worked for the research lab of the .CL, the Chilean top-level domain. She has spent time at Akamai, MSR and the OECD.