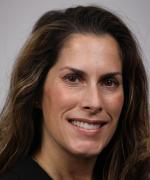 GTRI Principal Research Scientist
Research Areas: Applied psychoanalytic and socio-cognitive foundational theory; qualitative analysis; mathematical modeling; understanding large group psychological response to politicized and core societal issues including domestic and national security implications.
Biography
Dr. Courtney Crooks is a Principal Research Scientist with Georgia Tech Research Institute (GTRI), licensed psychologist, and U.S. Navy Veteran. She has over 20 years of combined applied research experience in behavioral sciences and human systems engineering. Dr. Crooks has served in numerous leadership roles, project director/principal investigator, faculty mentor, and supervisory roles throughout her career, and is actively involved in her professional and civic communities.
She is currently serving a 3-year term on the Georgia Tech Welfare and Security Committee; served two years as Chair of the Georgia Psychological Association Legal and Legislative Committee; and is currently a member of American Psychological Association, American Psychoanalytic Association, IEEE/Women in Engineering, Atlanta Psychoanalytic Society, and Atlanta Kiwanis. She completed a PhD in Cognitive Psychology with University of Georgia; Masters in Aeronautical Science in Aviation Human Factors with Embry Riddle Aeronautical University; additional doctoral work in clinical psychology with a forensic concentration through Fielding Graduate University; doctoral internship and postdoctoral residency in health services psychology with Emory University School of Medicine; Georgia Tech Professional Education certificate in Cybersecurity; 4-year Core Program with Emory University Psychoanalytic Institute (EUPI), and Faculty Fellowship with the Georgia Tech Sam Nunn Security Program. Dr. Crooks is also an adjunct faculty member with Georgia Tech School of Cybersecurity and Privacy, and an adjunct assistant professor with Emory University School of Medicine.
Dr. Crooks' expertise is in forensic cyberpsychology and behavioral analysis. Her current research applies foundational psychoanalytic theory; formal qualitative analysis; and behavioral modeling to understand the psychological dynamics of cyber-enabled information ecosystems, and national security and mental health implications of psychological responses to trauma, politics, and core societal issues. She specializes in understanding the mechanisms of persuasion, deception, coercive control, and destructive ideology through adversarial modeling and lived experience of vulnerable populations.