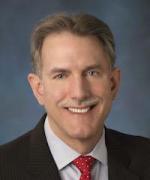 Senior Principal Research Scientist, Applied Physics Laboratory, University of Washington
Biography
David Aucsmith is currently both Chief Scientist at root9B, where he works on science to support manned active cyber defense and adversary pursuit, and a Senior Principal Research Scientist at the Applied Physics Laboratory of the University of Washington, where he does research in cyber-physical systems security.  He is also an independent consultant and advisor to agencies of the US Government.
Prior to both root9B and the Applied Physics Laboratory, David Aucsmith was the Senior Director of Microsoft's Institute for Advanced Technology in Governments from 2002 until 2014 where he was responsible for technical relationships with agencies of the United States and other Governments, as well as on select special projects.  Before joining Microsoft, Aucsmith was the chief security architect for Intel Corporation from 1994 to 2002. 
He has worked in a variety of security technology areas including cyber-physical systems, secure computer systems, secure communications systems, random number generation, cryptography, steganography and network intrusion detection.  Aucsmith is a former officer in the U.S. Navy and has been heavily involved in computer security and cybercrime issues for more than 30 years.  He has been an industry representative to numerous international, government and academic organizations including the technical advisory boards of the National Security Agency, the National Reconnaissance Office, the National Academy advisory board on Survivability and Lethality Analysis and the Directorate Advisory Council for the National Security Directorate of Pacific Northwest National Labs.  He is co-chairman of the FBI's Information Technology Study Group, a member of the Secret Service Task Force on Computer Aided Counterfeiting, a member of the President's Task Force on National Defense and Computer Technology and a member of the Department of Defense's Global Information Grid Senior Industry Review Group.  Aucsmith was also U.S. industry representative to the G8 Committee on Organized, Transnational, and Technological Crime where he participated directly in the G8 summits in Paris, Berlin and Tokyo. 
Aucsmith holds 33 patents for digital security and is a member of the advisory board for the College of Computing at the Georgia Institute of Technology.  Aucsmith holds a Bachelor of Science degree in biochemistry from the University of Georgia and Master of Science degrees in physics from the Naval Postgraduate School and information and computer sciences from the Georgia Institute of Technology respectively.  Additionally, he has a Certificate in Fine Arts Photography from the University of Washington.  He is the author of numerous papers and currently lectures at the Naval Postgraduate School, the Naval War College, and the Air Command and Staff College.