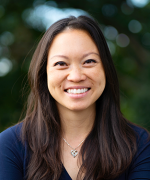 Deputy Chief Technology Officer, Federal Trade Commission
Biography
Kathy Pham is a computer scientist, product leader and entrepreneur who has held roles in product management, software engineering, data science, consulting, and leadership across the private, non-profit, and public sectors. In 2021, she was appointed the Deputy Chief Technology Officer of the Federal Trade Commission in the United States. She also serves as Senior Advisor at Mozilla, Digital Service Expert at the United States Digital Service at the White House, and on faculty at Harvard University. 
Kathy's work has spanned Google, IBM, Harris Healthcare, and government at the United States Digital Service at the White House, where she was a founding product and engineering member. She has founded Women in Product Boston, the Cancer Sidekick Foundation, Team Curious, and Unite for Sight southeast. Kathy has served on the advisory boards of the Anita Borg Institute Silicon Valley, the "Make the Breast Pump Not Suck" initiative, Civic Signals, Startups and Society, FWD50, and Fortune 500 companies. Kathy was the Co-Founder and Co-Lead of the Responsible Computer Science Challenge and founder of the Mozilla Builders Incubator at Mozilla. She also co-founded the Ethical Tech Working Group at Harvard and focuses on ethics and social responsibility with an emphasis on engineering culture, artificial intelligence, and computer science curricula. She was a Fellow in Ethics and Governance of Artificial Intelligence at the MIT Media Lab and Berkman Klein Center, with a focus on Artificial Intelligence and communities, and Civic Science Fellow at the Rita Allen Foundation. Kathy is a Shorenstein Center Senior Fellow and Adjunct Faculty at the Harvard Kennedy School, where she teaches Product Management and Society. She is also a Faculty Affiliate at the Center for Research on Computation and Society (CRCS) at Harvard, and Faculty Affiliate of the Public Interest Tech Lab. 
Kathy has been recognized as First Lady Michelle Obama's 2015 Guest to the State of the Union Address, a finalist in the StarCraft II After Hours Gaming League, and worldwide champion at the Imagine Cup Technology Competition. Kathy holds Bachelors and Masters in Computer Science from Georgia Tech's College of Computing and Supelec in Metz, France.