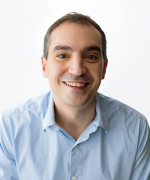 CTO and Co-founder, Credit Karma
Biography
As Credit Karma Co-Founder and Chief Technology Officer, Ryan Graciano is responsible for Credit Karma's technology strategy and infrastructure. He oversees the company's engineering, data science, data analytics and core product teams. At Credit Karma's inception, Ryan served as the company's sole engineer, building the MVP, running member support and scouring Craigslist for engineering talent. He has since scaled his organization to a team of hundreds and transformed Credit Karma into an agile technology company powered by a modern technical infrastructure. 
Ryan's technical expertise married with his member-first mindset and passion for making an impact is what drives technology and product innovation at Credit Karma. He places Credit Karma's more than 120 million members at the center of every technical decision he makes, putting the company on track to become the leading platform for a truly automated financial experience. Ryan understands that everyone's financial situation is different, which requires a product solution driven by personalization at scale. He has overseen major investments in cloud and machine learning in order to unlock a product experience capable of hyper personalization, unique to the fintech space. 
Ryan has a Bachelors degree in Computer Science from the Georgia Institute of Technology and spent five years at IBM before joining Credit Karma.