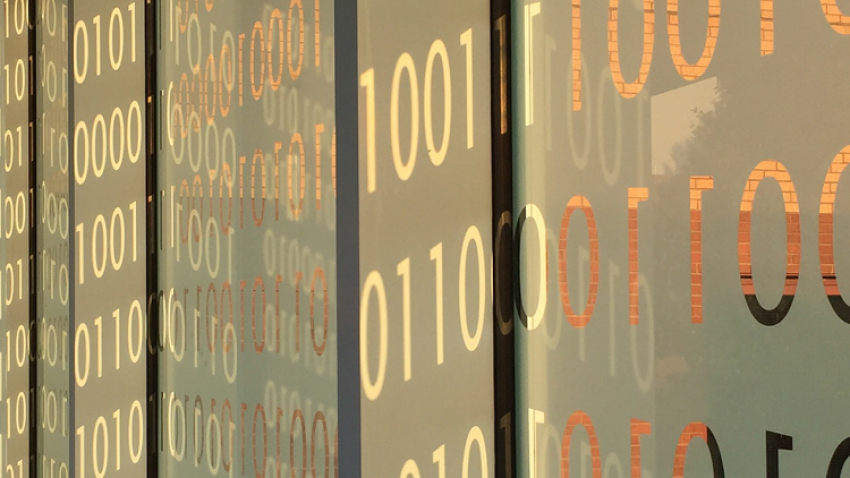 Flashpoint's Innovation for All Conference Shows the Success of the Startup Engineering Program
Flashpoint is more than just a center for startup engineering. It's a place that changes mindsets and the future of companies. This was the common theme at its 2018 Innovation for All Conference & Cohort 8 Demo Day on Jan. 23.
Entrepreneurs, investors, students, and professors filled the auditorium of the Historic Academy of Medicine. The afternoon included panels, demo day presentations, and a keynote from Flashpoint Director and Founder Merrick Furst.
Furst, a Distinguished Professor in the School of Computer Science, presented what he called "the trillion-dollar opportunity." Startups should no longer be asking how to innovate but how to innovate in a more deliberate way.
"Imagine someone saying, 'We invested in that idea because the team has the competence to innovate,'" Furst said. But how do you determine who is competent at innovation?
There are three types of innovation, according to Furst:
Informative, where companies get better at becoming themselves or doing what they already do
Transformative, where companies change what they are or pivot
Formative, where companies change their form
The third type of innovation is the most significant yet also the hardest to accomplish. "Because we don't notice that we're wrong, we don't do anything about it," Furst said. "The single biggest problem we have when trying to do innovation is people are fundamentally indifferent to us."
The key to having a successful startup then is finding what Furst calls "the nonindifference," or what is something people have an authentic demand for. This is what Flashpoint teaches its cohorts. Yet it's not as easy as anticipating customers' needs; it's a fundamental shift in how the company thinks.
"We live in our own blind spots, but we can't just tell people they are in blind spots," Furst said. "We have to provide a process to get out of the blind spots."
Part of getting out of that blind spot is realizing customers are often just as immune to change as the company is. "You need to see customers for who they cannot avoid being to map their immunities to change," Furst said. "That way you can adopt a deliberate innovation mindset that enables customers to be more themselves."
This is the Flashpoint process, and it has been a wide success. Since 2012, Flashpoint has worked with more than 150 startups with a market value of roughly $1.2 billion. Yet the success is more than just a number as various startup directors and Flashpoint alumni said during the first two panels, led by Professor Richard DeMillo.
Andres Garcia, chief technology officer of Florence Healthcare, said Flashpoint fundamentally changed how they operated.
"Before we started Flashpoint, the company was just three guys in a small office trying to figure something out. I'm a technical person, so I was trying to build something," Garcia said. "When we got to Flashpoint, they said, 'You shouldn't be writing code; you should figure things out first.' It forced me to talk to customers. Right from the start, Flashpoint changed the way we do things."
Flashpoint is so embedded in a company's DNA that even people who didn't go through the program benefit from it. When Robin Gregg became CEO of RoadSync, a Flashpoint alum, she discovered just how much Flashpoint's drive for honest dialogue impacted her team.
"We have a firm commitment to being very honest about what we're thinking and making sure we weren't lying to ourselves," Gregg said. "Some of the things that went most poorly were most informative—to us, to our strategy, to me as a leader."
Yet Flashpoint doesn't just help startups. Corporations, from Coca-Cola to Mercedes-Benz, have sent employees to learn how to innovate. Several Tech professors have been better able to understand their colleagues thanks to the program.
"The academic world has come up with fantastic ideas of how to get better at helping students learn, yet when we bring this to our colleagues and universities across the country, we're met with resounding indifference," said School of Physics Professor Michael Schatz. "Flashpoint has been really unlocking more insight into why our colleagues make the certain choices that they do."
One of the key things all panelists noted was how Flashpoint made failure constructive.
"Most cultures don't have an environment that accepts and embraces failure," said Beverly Seay, chair of the College of Computing's Advisory Board. "With the Flashpoint approach, it's okay to take risks. They offer you that chance early before you spend millions."
The afternoon concluded with demo day presentations from 16 teams from Flashpoint's Cohort 8.
The Flashpoint process clearly has had an impact across all sectors because it's not just about startups, as Furst noted.
"Deliberate innovations matter not just for startups, but large innovations as well."