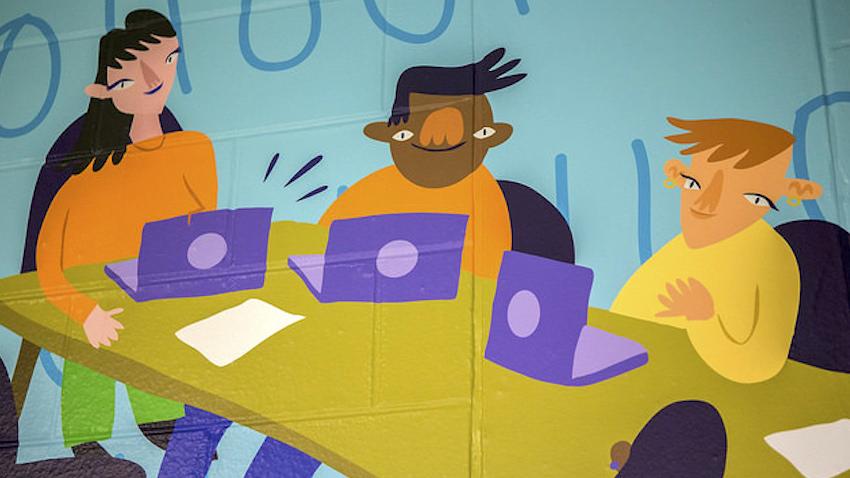 New Murals Representing Diverse GT Computing Community Unveiled
New, floor-to-ceiling murals in the College of Computing Building greeted students returning from spring break this week.
Created by well-known Atlanta multimedia artist Barry Lee, the murals are located in the building's main stairwell. They feature vivid colors and whimsical characters engaging in computing activities.
"I love these images," said Dean of Computing Zvi Galil. "The murals are very friendly, inviting, and are a great way to represent the diversity of our work and our people in the College."
Computer science historically has been seen as a solitary pursuit. However, the murals push back against that outdated notion by highlighting community and the collaborative aspects of computing. Students working together, drones, binary code, equations, and of course, pizza, are just some of the elements of life at GT Computing featured in the murals.
"I really like the social aspect of the students. [The murals] are very conversational, atmospheric, and happy," said Tanya Churaman, a second-year computer science major.
[PHOTOS: See more pictures of the new murals]
According to Lee, the hardest part of this and most of his other commissions is staying true to his style, while also meeting a client's wishes.
"I think the most challenging thing [about this project] was translating a subject that is so scientific and concrete into creating a whimsical illustration without losing the intended theme of the mural," Lee said. 
Each of the three murals is approximately 110 inches wide. Heights range between 123 and 193 inches. Although it looks as if they have been painted on the walls, the murals are overlaminate vinyl wraps. They were applied with a small amount of adhesive and then heated with a blowtorch. The heating shrinks the material, allowing it to adhere to the contours of the walls. The murals were installed on March 23.
Lee has created murals and public art pieces in Atlanta for MailChimp, CallRail, and the Bookhouse Pub.