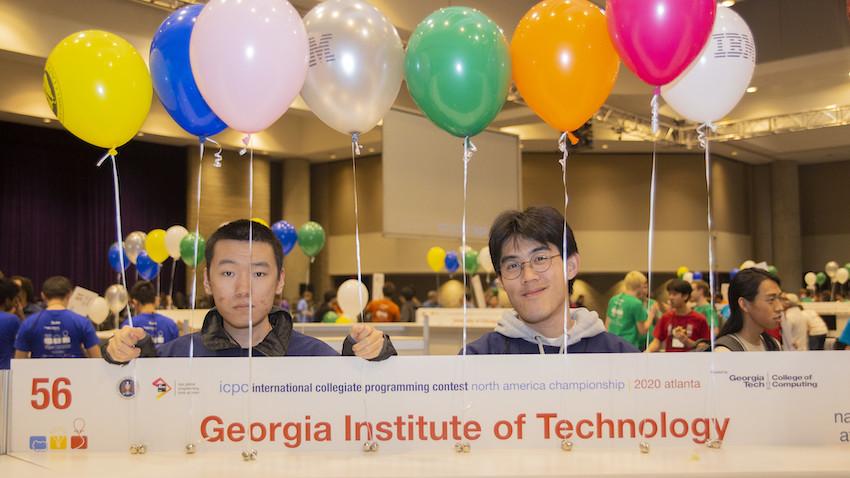 Tech Team to Compete in Championship This Week
Get your cheer gear and your resume ready to go. This week, a team of Georgia Tech students is vying for the title in the first-ever North America Championship of the International Collegiate Programming Contest (ICPC).
Top collegiate computing students from across the United States and Canada are pouring into Atlanta to take on Georgia Tech 5 (GT 5) in the algorithmic programming competition. The event is Saturday at the Georgia World Congress Center (GWCC), from 10 a.m. to 3 p.m. It's free and open to the public.
Nearly 60 teams are competing in the inaugural continental championship. The winning team, along with the 2019 regional winners, will advance to the 44th Annual ICPC World Final, which is being held in Moscow, Russia, June 21 through 26.
[RELATED: Top Student Programmers Heading to Atlanta for Shot at World Finals]
As winners of the ICPC 2019 southeast regional qualifier held last November, GT 5 – computer science major Animesh Fatehpuria and Ph.D. students Li Chen and Yu Gao – is guaranteed a shot at the world title.
The inaugural ICPC North America Championship is hosted by Georgia Tech's College of Computing, which is also set to host the championship in 2021 and 2022.
"When the ICPC contacted us last year about hosting the new championship, we were eager to volunteer because we believe in the worth of the contest and know the value of creativity, teamwork, and performance under pressure," said College of Computing Dean Charles Isbell.
"We're excited at the opportunity to bring some of the best young minds in computing to our campus to see what we–and the city of Atlanta–have to offer."
Along with the championship competition on Saturday, the teams will participate in a cybersecurity challenge hosted by the National Security Administration (NSA), a visit to the World of Coca-Cola, a sponsors' showcase, and more.
The Tech community is encouraged to cheer for GT 5 during the championship competition on Saturday. Along with this, students are invited to meet with event sponsors at the GWCC Thursday from 12 to 5 p.m. Sponsors include NSA, IBM, Universal Parks and Resorts, SpaceX, and more.
The ICPC is the oldest, largest, and most prestigious programming contest in the world. The ICPC operates under the auspices of the ICPC Foundation, which was founded to advance the art and sport of competitive programming for the benefit of society. More than 320,000 students have competed in ICPC since it began in 1970. In 2018, nearly 53,000 students from more than 3,200 universities in 110 countries participated in ICPC events.