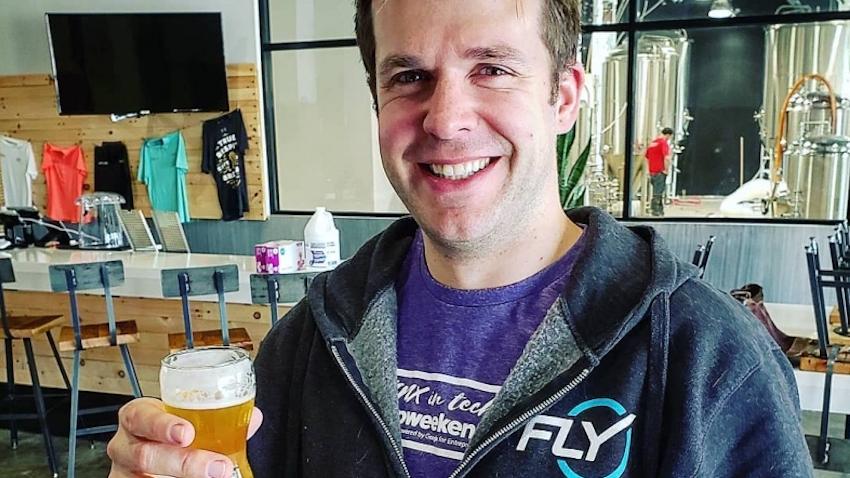 Alumni Launch Company to Help Breweries Go Consumer Direct
When Maryland became one of the first states to ban on-premise dining and drinking for restaurants and bars in response to the coronavirus outbreak, the proprietors of True Respite Brewing Company, like most small business owners, were deeply concerned about the revenue hit their business would suffer.
However, company co-owners Bailey and Brendan O'Leary had a plan. Within minutes of the governor's order on March 16, they went live with Biermi, a new consumer-direct digital sales platform designed for independent breweries in the U.S. and Canada.
The free platform provides these businesses with a central place to manage the consumer-direct sales process, as well as delivery and pickup logistics. For consumers, the Biermi site lets them enter their zip code to find participating breweries in their area.
Since launching, more than 200 breweries across the country have registered with Biermi, which has processed more than $337,000 in sales in less than a month.
In the days leading up to the statewide order, the O'Learys, both Georgia Tech alumni (BS 2011), could see the pandemic building. They knew they would have to do something to keep their relatively new business afloat.
So, they put their heads together with Brian O'Connor (BS 2008). A Georgia Tech computer science alumnus, O'Connor has a small interest in True Respite and supports the company's software-related needs.
"True Respite has only been in business for about two years. We knew it was going to take a big economic hit and we wanted to create something that would not only help our company, but that other independent breweries could use to support their businesses while their taprooms are closed," said O'Connor.
During their discussions, the True Respite team knew that consumer-direct was the way to go. But, like many states, Maryland regulations didn't allow for the delivery or off-premises sale of alcohol.
"Online was an obvious choice because of the need for social distancing and the growing demand for online services, but delivery seemed like a far-fetched idea as permitting and regulations were unlikely to allow it," said O'Connor.
Nevertheless, the team decided to move forward. Based on the plan they had sketched out, and on what various sources were telling them about what was likely to happen, O'Connor spent the March 13 weekend building the Biermi platform.
With its front-end application built using the Angular framework and the backend using a mix of cloud-native, serverless technologies and MySQL, Biermi gives breweries more control over how their products are presented. It also allows Biermi to automatically scale to handle the traffic at different times of the day and in various regions across the US and Canada.
Once the platform was ready, the team planned to hold off on the launch until Maryland's statewide mandate was announced. It turns out they didn't have to wait long. Governor Larry Hogan made the announcement on Monday, March 16.
Fortunately for the Biermi team, Maryland's on-premise dining and drinking ban included provisions for loosening alcohol sales and licensing. These relaxed rules paved the way for delivery and curbside pickup for restaurants and breweries.
"Looking back, I'm pretty impressed that we had the foresight to move in this direction," said O'Connor, who lives in Philadelphia with his wife and twin seven-month-old boys.
With businesses looking for new ways to distribute to their customers, the response so far has been huge. Breweries from Oregon, California, Wisconsin, Georgia, Vermont, Texas, and other states have registered and are doing business through Biermi. According to O'Connor, at least 2 and as many as 10 breweries are registering each day.
Not only are new breweries registering, they are also providing feedback on the platform. O'Connor says he's making two or three updates every day based on customer feedback.
"One of the things breweries had asked for was a tipping feature, which we have since added to the platform," O'Connor said.
With such initial success, the Biermi team has an eye toward the future. According to O'Connor, they have been talking about how regulations might change back or be updated once this crisis has passed, and how this could impact potential revenue models.
"There are a couple of routes we could go with this to generate revenue. For now, though, our focus is saving breweries," O'Connor said.
For more coverage of Georgia Tech's response to the coronavirus pandemic, please visit our Responding to COVID-19 page.