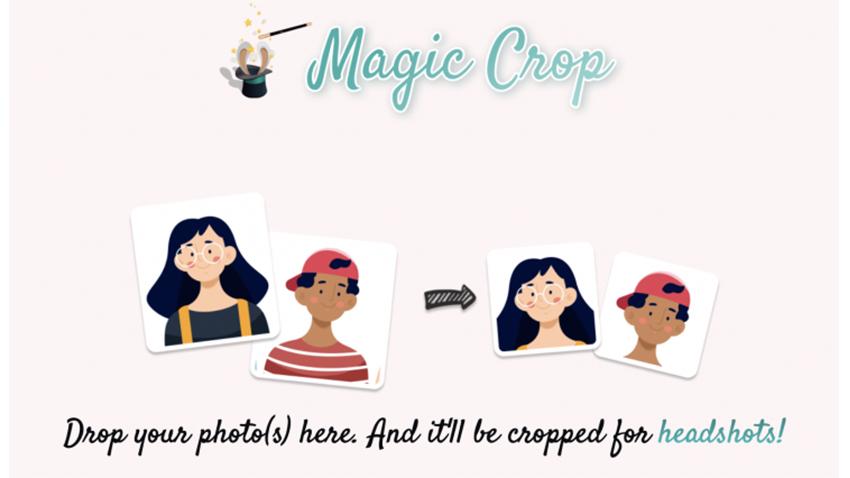 Finally, A Site that Crops Headshots Instantly (Without Sharing Your Photos)
From social media to professional directories, the number of photos to edit – and the time you spend editing them – can feel endless. Now, rather than downloading yet another app that uses your data, you can use Magic Crop to get a perfectly cropped headshot.
Magic Crop is a web page that harnesses the power of artificial intelligence and photography's rule of thirds to seamlessly and easily crop your photos into the perfect headshot. All the while, without sharing or storing your photos.
College of Computing first-year student Megan Dass, alongside School of Computational Science and Engineering Associate Professor Polo Chau, created the web-based cropping tool in one week.
"Every year, many new members join my research group and teaching team. We have to individually crop their photos so they have a uniform look and it is a lot of work," Chau told Dass in their original correspondence about the project.
According to Dass, an avid social media user, there was an instant connection to the project.
"I related right then and there because even when I have to crop something small like a headshot for social media, cropping is the worst part. I knew from my experience alone that this could help a lot of people if they could just drag a number of images onto a simple web page and instantly have perfectly cropped photos," she said.
Magic Crop uses a deep neural network to detect where a human face is on an photo. What's more, the neural network is compact enough that Magic Crop can download it to the user's device. The users' photos never need to leave their devices, so there is no privacy concern with the page.
"Our group cares a lot about building tools that are as easy to use as possible. So, we were looking for a way of deploying this new technology that everyone, no matter their skill level, could use and have satisfactory results," said Chau.
Of course, as with any editing software, there are boundaries for the existing site's intuitive nature. The site is unable to determine which face needs to be cropped if a user uploads a photo with multiple people in it, and pixilation can happen to any photo if it is taken from too far away.
"It's a problem that we all face, and this is just a simple solution that can fix it easily," said Dass.
Chau hopes the project will be expanded in the future after gathering feedback on how best to develop the user experience. 
"It's an iterative process. Currently, it is quite automated, but we might support extending to more sophisticated options on the site such as ratios," he said.