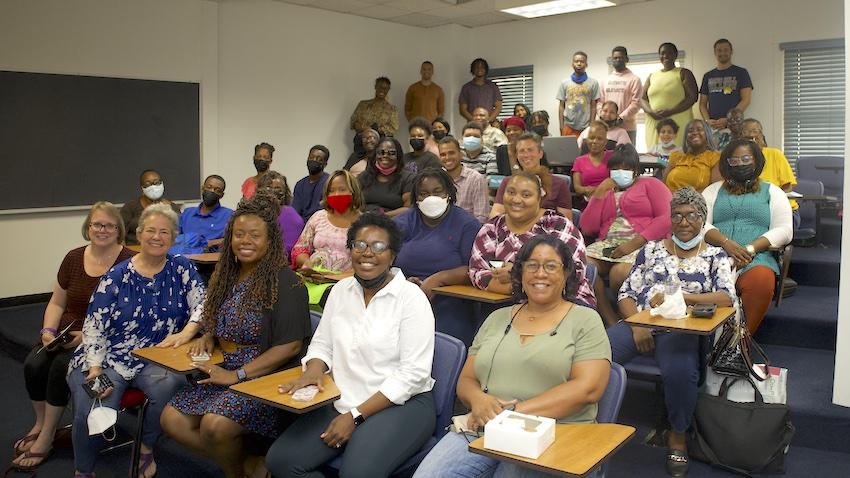 Coding Workshops Provide Resources and Support to Teachers in U.S.V.I.
The Constellations Center for Equity in Computing hosted professional development workshops in the US Virgin Islands this summer.
The workshops were part of a collaboration between Virgin Islands Established Program to Stimulate Competitive Research and Georgia Tech's College of Computing, which is home to Constellations. Program fellow Yolanda Payne spearheaded the initiative.
The professional development program consisted of three two-day workshops that covered coding for computers, robots, and circuits. Dozens of teachers participated in the workshops, which were hosted at the St. Thomas and St. Croix campuses of the University of the Virgin Islands. 
"The level of excitement and engagement of these teachers will truly translate to classroom benefits for students. We immersed the teachers in new learning that they could readily take back to their classrooms," Payne said.
According to Payne and other organizers, what sets Constellations' workshops apart is the sense of community offered to teachers once the workshop is over.
"Often with this type of workshop, teachers are handed resources but not given the support to really implement them in the classroom," said Diana Bowen, an assistant mathematics professor at the University of the Virgin Islands who assisted in coordinating the workshops.
"Those participating in these workshops, however, are learning how to move from using the resources to building out lesson plans and implementing them in the classroom," she added.
Bowen believes the impact of these workshops will be felt beyond the teachers and the classroom. Several high school students were able to attend them alongside their teachers and the exposure was a mindset shift.
"They get exposed to the latest technologies, they get exposed to programming, they get exposed to computing in ways that are relevant to what corporations and companies are doing in these fields. I think this is a first step in helping our students see why a STEM career or pathway could be rewarding for them," said Bowen.
Each of the workshops gave teachers resources that they could take back to their classes and pass along what they learned in the workshops to their students. The giveaways included the Finch Robot, along with circuit kits from Chibitronics and Microbits.
Cultivating this computer science community through professional developments, summer camps, providing resources, and supporting teachers beyond the workshops could allow the next generation of CS professionals to stay on the island.
"In the past we've had students go to enrichment programs stateside. But, when we empower teachers and they begin to integrate these resources in their classrooms, students start to say 'oh, in my classroom we're doing robotics, I can do this here today,'" said Bowen.